7 Best Attractions in Los Angeles
Unique Attractions in Los Angeles
LA attractions are really famous throughout the world. This article explores some 7 best attractions in Los Angeles that you can visit and take pictures of while in the USA. Los Angeles is a city that has Hollywood glamor, beaches, and the best gastronomy in the world. It is not recommended to explore everything on a single trip since there is a lot to see here. However, there are a selected few that are worth a trip.
1. Runyon Canyon Park in Santa Monica Mountains
It is one of the most famous hiking attractions in Los Angeles. This land is approximately 160 acres, and it is near Hollywood Boulevard. You can take a walk or jog here, and sometimes you might see a celebrity because the park is close to Hollywood Hills.
2. Hollywood Forever Cemetery in Santa Monica Blvd
Cemeteries are not really famous for being tourists attractions; however, the Hollywood Forever Cemetery is one of LA's best hot spots. This cemetery is famous because it houses the graves of Cecil B DeMille, Judy Garland, and George Harrison of The Beatles. The burial gets crowded in summer, when Hollywood, because of film screenings and concerts that often play here.
3. Chinatown in Downtown LA
As one of the cultural attractions in Los Angeles, you can find many tasty dining places, art galleries, and unique shops in Chinatown. Try going to Yang Chow restaurant for traditional Chinese dishes. Also, try savory fried chicken from Howlin' Ray's in Far East Plaza. Moreover, you can also see the bronze statue of film star Bruce Lee here.
4. Los Angeles County Museum of Art on Wilshire Blvd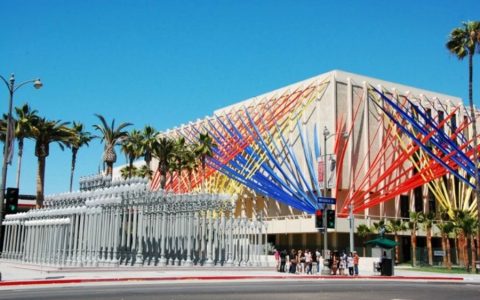 The Los Angeles County Museum of Art is the biggest art museum in the western part of the US. Also, this gallery holds many diverse collections from Latin, Islamic, and Asian art. On the outside, you will see the Urban Light installation consisting of 202 cast iron street lamps. These lamps will brighten Wilshire Boulevard at night.
5. Venice Boardwalk in Venice Beach
Venice Boardwalk is one of the main attractions in Los Angeles you can visit. This beach is right outside of Santa Monica. The Venice Boardwalk offers beautiful ocean views, pubs, food, and its many performers. The top spots here are Muscle Beach Venice and Venice Skate Park. Also, if you feel like cold coffee, Groundwork Coffee Company, as well as Menotti's Coffee Stop, offer some of the best here.
6. Universal Studios Hollywood in San Fernando Valley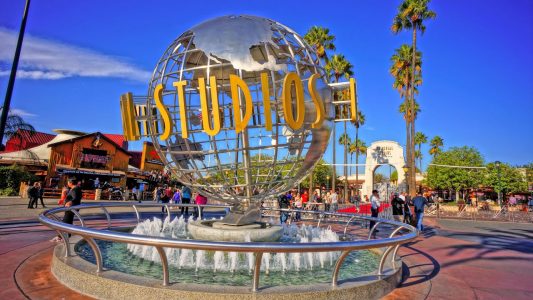 Universal Studios is one of the best LA attractions to put you in a movie setting. You can explore some famous film sets as well as experience the feeling of being in movies such as Jurassic Park & Harry Potter. Also, for a more memorable experience, add Water World to your list as well.
7. Hollywood Walk of Fame along Vine Street
This path is located near Hollywood Boulevard between La Brea Avenue and Gower Street, and it is another one of the world-famous attractions in Los Angeles. You will see the stars on the floor dedicated to the great achievements of movie stars or film icons. Also, you can see the famous Hollywood sign from Sunset Boulevard and Bronson Avenue here.
Famous LA Attractions
There are also other world-famous LA attractions in this area. Recreational programs such as volleyball games on the beach and camping in the mountains around the city or watching whales and boating in the clear and blue ocean waters are just part of many activities in this city.
Griffith Park to See Griffith Observatory
Griffith Park is one of the largest urban parks in the United States of America, which welcomes tourists away from the bustle of this city. In addition to hilly paths and green spaces, the park is full of recreational attractions, from the Los Angeles Zoo to the open-air Greek theater, located in this park. Also, one of the most important structures and attractions in Los Angeles, the Griffith Observatory, is located in this park.
Santa Monica Pier to Take Beautiful Pictures
Santa Monica Pier, which is very famous worldwide, is formed from two piers. The long and large part of the pier, which houses the old shops and restaurants, and the characteristics of the southern California piers can be seen in this part. The adjacent pier attracts the most tourists. In the square where these two piers are connected, the old amusement park is located along with the old carousel, which is one of the most important LA attractions and a symbol of the city.
You should also visit some of the 5 prettiest cities in the USA besides Los Angeles. These cities have famous landmarks, and their natural beauties are something you cannot simply find in other parts of the world.