Top Restaurants in Marrakesh
Best Restaurants in Marrakesh
The combination of the old culture of North Africa and the contemporary cuisine of Morocco makes having food in restaurants in Marrakesh a very joyful experience. This dichotomy between old and new even overshadows Moroccan restaurants, and you can choose from a variety of places to choose from.
Le Loft on Rue de la Liberté
The Le Loft is one of the good French restaurants in Marrakesh that welcomes you in a unique setting. Located on Rue de la Liberté in the center of Guéliz with a menu of French specialties. Also, Le Loft is undoubtedly one of the best places to visit here for some delicious food. It is good to know that it is also a friendly restaurant with pleasant background music. As for the cuisine, you will dine in a contemporary environment, with hearty starters for quick meals. Moreover, there is also a menu that offers starters, main courses, and desserts for a reasonable price.
Cuisine de terroir on Rue Kennaria Road
You can find it in Rue Kennaria near the famous Jemaa el-Fna square. This restaurant offers tasty local dishes with fresh ingredients and excellent quality. In fact, all the dishes here are taste like home-cooked food. What you get here is friendly and helpful staff, traditional interior design, and a good view of the local market. Also, other than the main dishes, you can order desserts like delicious chocolate crepes.
Dar Zellij on Kaa ssour
Dar Zellij is one of the most remarkable restaurants in Marrakesh, near many hotels. It is amongst the best renovated Marrakech Riads houses in this city. This is a beautiful 17th-century riad house and one of the best restaurants in the world. You can see the painted ceilings with a rare beauty, as well as a luxurious and romantic atmosphere here. This is a gourmet restaurant that you should visit during your stay in Marrakech and enjoy the fantastic offerings of Moroccan gastronomy.
Comptoir Darna near Park Arsat mouly abdeasalam Garden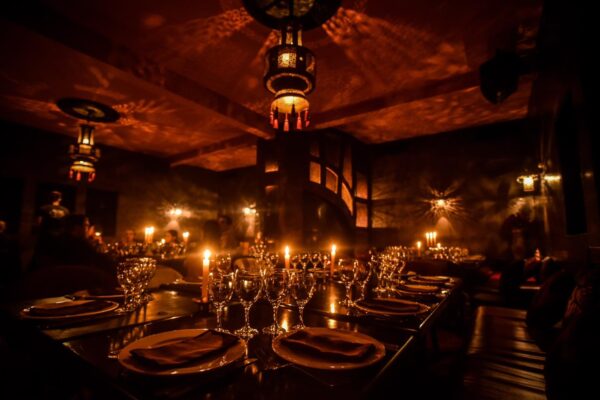 The Comptoir Darna combines a luxury ballroom, theatrical space, and the Ardcoi Villa. Here, you can observe Moroccan folk dance and listen to traditional music. The decor here is very glamorous, and the clean and cozy atmosphere will give you a very pleasant feeling. The magnificent dining hall here is filled with spectacular Moroccan-style chandeliers and a great menu of the best French and Moroccan cuisine. Of course, you can also find some international food in between. The stars of the menu here are Seafood tajin and lamb kebab. Food is just one of the many sights here, and you will be treated with magnificent and exciting traditional dance scenes.
Al Fassia on Bd Mohamed Zerktouni Street
Al Fassia is one of the best restaurants in Marrakesh that offers customers a delicious selection of traditional and Moroccan cuisine. This restaurant is very popular with locals and attracts many tourists. In fact, local people choose to eat here to remind them of the old days and enjoy its fresh and delicious food. You can choose from the fixed menus here and try a range of unique dishes in the restaurant.
Dar Moha Restaurant in Dar El Bacha Neighborhood
Dar Moha is one of the best restaurants in Marrakesh to try new Moroccan cuisine. This restaurant's menu consists of classic dishes and combines authentic Moroccan flavors and dishes with innovative techniques and different cooking styles. The owner of this restaurant turned this garden house into a beautiful dining hall where guests can enjoy delicious food by the spectacular pool of its patio area. These foods here are delicious and exciting, and the environment is unforgettable.
Fine Mama on Prince Moulay Rachid
Fine Mama is a family kitchen in a traditional setting where you can eat both local and traditional dishes. The terrace view here makes you want to come for a quick snack and enjoy looking at the flow of the city and its people. The food here is reasonably priced, and the place is good for having Tajines and sandwiches.
Other than Marrakech, you can find other wonder locations in Morocco, like Casablanca. Restaurants in Casablanca offer a wide range of dishes and many international fusion cuisine as well. Make sure to visit this city at least once in your lifetime.