There are many attractions in Vietnam. Although Northern Vietnam has fewer visitors than Ho Chi Minh City and other southern Vietnamese cities, it should not be missed. This area is not only the host of Hanoi, the capital of Vietnam, but also a place where you can see Northern Vietnam attractions such as the beautiful bays, observe the rice fields up close and enjoy the beautiful and eye-catching scenery.
Mai Chau in Hòa Bình Province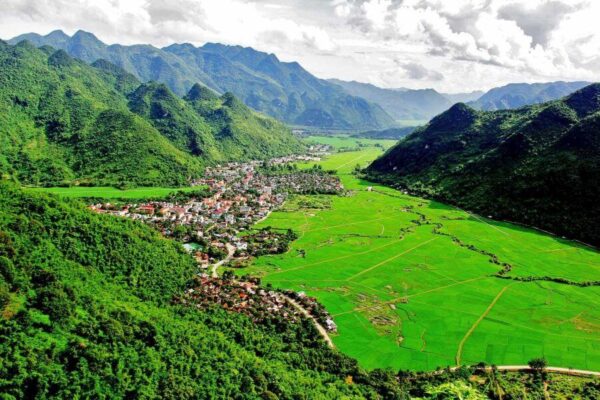 In the heart of Hòa Bình Province is the Mai Chau region, which has lush and majestic areas, beautiful mountains and vibrant culture. Mai Chau is one of the most wonderful attractions in Vietnam to visit.
If you want to see different and diverse cultures up close, visit this area. Mai Chau has hosted several groups of people. In addition to the beautiful valleys found in this area, visiting the waterfalls will amaze you. These houses are built three meters above the ground and are often shelters for animals looking for some safety.
Cat Ba Island a Protected National Area
Cat Ba archipelago is in the Vietnam's Hạ Long Bay. Although the archipelago has more than 300 islands, the largest island is known as Cat Ba. There are many beautiful places to explore on the island.
Fortunately, more than 50 percent of the island is made up of a national park built to protect a rare species of monkey. If you can't see this animal here, take a boat and head to the Monkey Island. You can see many monkeys on this island.
Bai Tu Long Bay Located Near Hạ Long Bay
Hạ Long Bay is one of the most popular attractions in Vietnam. However, this bay is not the only beautiful bay that you can explore in this area.
Bai Tu Long Bay is located near Hạ Long Bay and has a limestone plateau, beautiful blue waters and many small islands. In fact, most people prefer to travel to this bay because it is very popular. The best way to get to this bay is by boat.
Ban Gioc – Detian Falls on Hills of Daxin County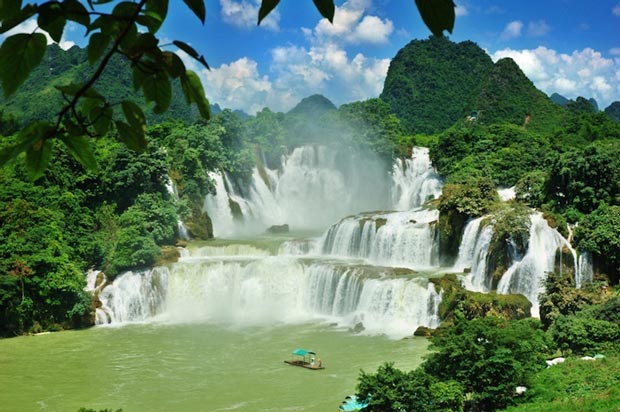 Right on the border between Vietnam and China, there is a beautiful waterfall called Detian. The whole area is known as the Detian Scenic Zone. Of course, keep in mind that the waterfall is one of the most important attractions here.
Detian falls is formed by three water steps, and this has created beautiful scenery. One of the most unique ways to visit a waterfall is to take a boat near the river itself.
Bac Ha With Interesting Heritage
Just a few miles from the Chinese border, you can find the town of Bac Ha. This city is very small and the best time to explore the city square is during the weekdays. Local restaurants are located in the area that serve cheap, delicious and attractive local food. You can buy items from handicrafts in this city. What makes Bac Ha worth visiting is its Sunday market. On Sunday mornings, residents of the area gather and start selling various products. Residents of the surrounding tribes come to the market to buy and sell, which provides a unique opportunity to see many attractions.
Tam Coc Magnificent Rice Paddies
In general, Tam Coc can be described as a rice paddy surrounded by limestone cliffs and rocks. But in fact, Tam Coc is one of the most beautiful and eye-catching attractions in Vietnam.
The best way to explore this area is to use a boat. You can even reach the area through three tunnels that run through the mountains.
Ha Giang Province near The Chinese Border
One of the most important remote attractions in Vietnam is Ha Giang. The area is close to the Chinese border and is known for its lush forests and granite mountains.
This is an incredible destination for exploring ethnic diversity and participating in activities such as hiking and mountaineering. With such beautiful scenery, the province hosts hundreds of unique and vintage spots.
Open-air markets are a common occurrence in this province. One of the best markets in the area is Dong Van, which is open on Sundays.
Sapa Overlooking the Muong Hoa Valley
The mountain town of Sapa is famous for its cultural diversity and proximity to beautiful and incredible scenery. Sapa itself hosts residents of different tribes making it one of more unique attractions in Vietnam in the Northern part of the country.
This beautiful city overlooks the Muong Hoa Valley and rice fields. If you want to visit the locals and get to know their culture, go to Sapa. You can go to remote villages and then spend the night with the existing tribes and its inhabitants.
Hanoi Offering French Colonialism Structure
If you just want to visit a place in Northern Vietnam, that area is likely to be Hanoi. Hanoi is a great combination of Eastern and Western cultures. French colonialism in this area is evident from the food served and the architecture that exists.
Hanoi has many incredible temples. When you travel to this area, be sure to visit the 11th century temple. The tomb and museum of Ho Chi Minh are also among the major attractions in Hanoi.
For good food in this city, check out cheap restaurants in Ho Chi Minh city info page. These are eateries which offer great quality food at very reasonable prices with lots of flavors too.
Hạ Long Bay with Beautiful Limestone Rocks
One of the best tourist attractions in Vietnam is Hạ Long Bay. Its fame and prestige have been well preserved over the years because it is truly beautiful. Ha long depicts a dragon showing the shadows of limestone protruding from the water.
Day and night boat trips are the best way to experience the beauty of the area. In addition to cat ba, Quan Lan is a popular resort that has become a tourist attraction as well. You can swim, explore the caves or find the pristine, and remote islands.