Kuala Lumpur is the unofficial capital city of Malaysia. Also, tourists come here to visit many available Kuala Lumpur tourist attractions. Today, this city is famous as the center of ancient and modern cultures and many world languages. From spectacular city skyscrapers and the twin towers of Petronas to large shopping malls like Bukit Bintang, this city has a good variety of attractions for every taste. There are some great attractions to see here for those traveling from other countries.
Genting Highlands Specially Famous for its Casinos
Genting Highlands is one of the Kuala Lumpur tourist attractions that you need to travel a bit to reach. It is a beautiful amusement park that you can get there by cable car or bus. This beautiful park is available on top of the tropical hills. Tourists can see a large selection of hotels and eye-catching accommodations here.
One of the five hotels in the area is a world-class hotel, which is also one of the largest hotels in the world. The venue here hosts a variety of oriental shows, concerts, and nightlife.
Putrajaya the Federal Capital City
Recently, almost all Malaysian government and official work has been done in this city. It is the governmental capital of the country, while Kuala Lumpur is known as the most famous city in Malaysia. Visitors can observe the office buildings and see governmental personnel moving about here.
From the magnificence of the Putra Mosque to the spectacular Putrajaya garden, the city offers a rich cultural experience for thousands of government employees as well as travelers exploring this area.
Fraser's Hill in Pahang
Fraser's Hill is a hillside resort located on the Titiwangsa Range in Malaysia. The area is one of the more European-looking Kuala Lumpur tourist attractions. Also, it contains seven peaks and a forest that is also one of the most beautiful landscapes in Southeast Asia.
This garden is famous for its variety of bird species and its nice vibes. Also, Golfers can find excellent courses in the area. This area is a popular destination for both locals as well as travelers. These people like to walk in the area and enjoy the beauty.
Port Dickson with a Nice Beach
Port Dickson is about an hour's drive away from Kuala Lumpur. Since colonial times, this area has been used as a coal and tin export port. The beaches in this port have clean white sand and are nice to walk on. The beachfront rooms are still new, and visitors can rent these places at a good discount price.
Kuala Selangor Nature Park Reserve
Taking a one-day trip from Kuala Lumpur to Kuala Selangor Natural Park can be a great experience. This area is a good natural location that is properly preserved in Asia. This park is home to endangered Milky storks. Moreover, you can also see Herons and monkeys in the area. There are fireflies along the Selangor River that will surprise you as well. Nothing like a boat trip can showcase the beauty of this area.
Kuala Gandah National Elephant Conservation Centre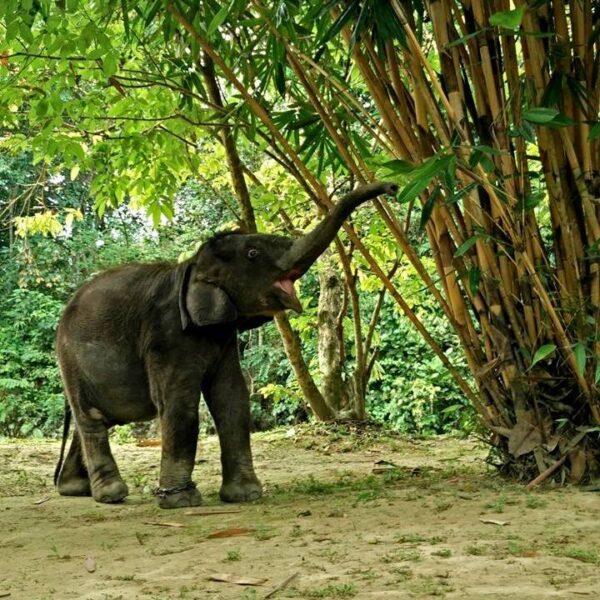 Tourists can visit Kuala Gandah National Elephant Conservation Centre within the Krau Wildlife Reserve. This place is there to save the lives of elephants used by people for agriculture. The center also serves as a training area where visitors can learn more about feeding and bathing elephants. It is only two hours away from Kuala Lumpur.
Batu Caves an Indian Temple in the Rocks
Batu Caves is one of the most famous Kuala Lumpur tourist attractions for religious enthusiasts. It is just 5 km from Kuala Lumpur and hosts eye-catching caves. In the nineteenth century, a small Hindu temple was built in a large cave and later became known as the Temple Cave. There is a huge golden statue of Lord Murugan in front of this cave.
At the top of the stairs, visitors can find three large limestone caves along with a small cave filled with Hindu statues. Tourists and visitors can bring bananas and peanuts to the monkeys in this area.
Malacca a Former Colony
Malacca is not exactly one of Kuala Lumpur tourist attractions, but tourists should travel there. This old city was originally the capital of a powerful Malay kingdom. The city was formerly colonized by Portuguese, Dutch, and English. Most of the buildings in this city are a beautiful blend of colonial architecture as well as Asian colors.
If you love to eat some halal food with Chinese flavors during your trip to Malaysia, then you should check the best Chinese Malay food that this country has to offer. Most of the food is Nyonya; however, there are some that bring their flavors from the Muslim part of China.