8 Best Budget Friendly Michelin Restaurants in Paris
8 Best Budget Friendly Michelin Restaurants in Paris
8 Best Budget Friendly Michelin Restaurants in Paris – That France has more Michelin star restaurants than any other place in the world. Also, the fact that Paris is houses a quarter of them is no surprise. However, is the cost of the dishes is not cheap. Here you can try some of these classy restaurants which are less pricey than the rest.
1. Septime
Septime is the place to visit on the Rue de Charonne. Further, getting a reservation here is a challenge. However the food and the vibe here worth the wait since the food fresh and modern.
2. La Table d'Eugène
The menu here is refreshed every 10 days and they use unique herbs, vegetables, as well as poultry grown in small producers farms. The 5 course menu is sublime but if you can spend more you should try the 8 course option as well.
3. Garance
You can find this restaurant not far from Les Invalides. The dining experience is all about unique design as well as clean flavours. Without a drink, lunch menus begins at affordable prices with dinner deal at almost €70.
4. La Truffière
This restaurant has a reputation for high end wine lovers as well as seafood and cheese. You can try this restaurant's 3 course main menu at an affordable price.
5. Les Fables de la Fontaine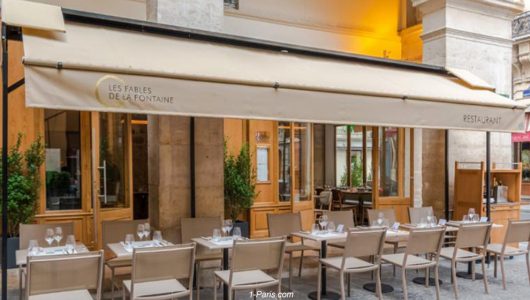 The seafood on offer here are reinvented classic dishes from the French Riviera and the kitchens of Nice. The weekday lunch menu is fantastic and the Menu Carte Blanche is a must try.
6. Benoit
Benoit has a lot of stories to tell. It's in business since 1912 and it is the only Parisian bistro to be in the Michelin Guide.  The vibe is always welcoming and warm and the design of red velvet gives it a memorable feel. You can find French cuisine classics here and the lunch menu is a reasonable offering for tourists.
7. La Table du 11
La Table du 11 is a restaurant with a cosy atmosphere as well as an open kitchen. This restaurant makes the perfect end as well as midday break to a day trip visiting the Palace of Versailles.
8. Saturne
This place puts value over simplicity as well as quality more than anything else. The products they use are all organic. Also, their food on the menu is on high quality each day, and they do not do any trickery with their dishes. The restaurant is famous with the white color people.
Suggest:
Best Cafés in Paris