Best Cheap Restaurants in Kuşadası
Best Budget Kusadasi Food
Kusadasi food is among the finest in Turkey and, therefore, not very cheap at times. Here are some of the best cheap restaurants in Kusadasi that offer great food at a low cost. Kusadasi is a city that offers many great cuisines, both local and international. Due to its touristic features, it has many restaurants that might be selling a bit at higher prices. Therefore, here is a list of a few restaurants that won't break your wallet. Overall, this great city has a lot to offer in terms of tourist attractions and great quality Turkish and international food at very reasonable prices, which maybe other cities in Istanbul might not do the same.
Komşu Cafe & Restaurant Located Near El Heykeli Sculpture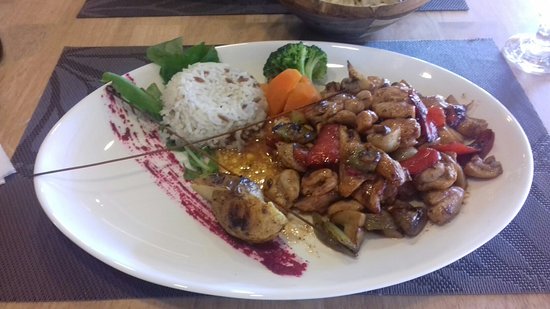 Komşu Cafe & Restaurant is one of the best restaurants in Kusadasi that offers some hearty yet cheap Kusadasi food. This restaurant is a gem in the city, which is perfectly situated along the town beachfront. This is because Komşu Cafe & Restaurant's menu is comprised of steaks, portions of pasta, burgers, pizzas, omelets, and many more comfortable Turkish dishes, all at good prices. The food value of money is extremely good here. The food tastes fantastic, and their staff is professional and polite. The location of Komşu Cafe & Restaurant is at Atatürk Blv. No:56/A in the Türkmen area near the El Heykeli sculpture.
Zümrüt Pide Salonu in Alacamescit Neighborhood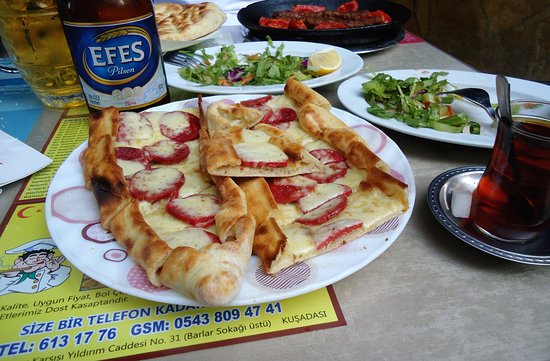 Zümrüt Pide Salonu provides tourists and travelers with some cheap Kusadasi food like pide. This is a cafe that serves very good Turkish food that comes with salad, apple tea, Turkish coffee, as well as tea. The portion is good for the price you pay for the food.
There are a ton of options in terms of prices and the type of ingredients available here, all tasting very delicious. Some of the famous menu items at Zümrüt Pide Salonu are beef kiremitte, lahmacun, pide, and adna kebabs. Also, the staff is really friendly and attentive, and you can dine in their beautiful back garden as well. You can find Zümrüt Pide Salonu at Yıldırım Cd. No:31 in the Alacamescit Neighborhood.
Bizde Ye Restoran near Kayalık Fishing Pier
This restaurant is where locals go. They serve many varieties of Turkish dishes at a really good price point. As you can see on their menu, the popular food items would be Güveç, pide, and many different types of kebabs. Also, the Owner speaks English very well, and the service here is expected for the price. This restaurant is located in the center of the city, which is also near Kayalık Fishing Pier, and is easy to find
Ali Baba Kebab Center close to Micro Miniature Museum
Ali Baba Kebab Center is another one of the restaurants in Kusadasi that offers delicious Kusadasi food like kebabs and meat dishes. You will feel like part of the family when you visit this restaurant since they are very friendly and caring. The food tastes delicious, and you can ask the cook how to prepare your meal. Most of the food you order is made on their charcoal grill. In order to find Ali Baba Kebab Center, you need to travel to Aslanlar Cd., which is also very close to the Micro Miniature Museum tourist attraction.
Since you are saving some money on food, it is good to spend some of it on 7 best bars in Kusadasi so that you can enjoy some quality nightlife here. These bars mostly cater to locals; however, you can still get by in them as tourists. They offer some good quality Turkish cocktails and beverages, and in most cases, they are even overly expensive.