Best of Malaga Restaurants
Malaga restaurants guide introduces tourists and travelers to some of the best restaurants in Malaga. Tourists need to get acquainted with present-day techniques that you see in Spanish cuisine in this city. The historic city of Malaga is located on the southern edge of Spain and is famous for its outstanding architecture and is the birthplace of the famous Spanish artist Pablo Picasso. Of course, apart from these historical and cultural events, this city is also one of the great destinations with a wide range of unique restaurants and food.
Restaurante Vino Mío near Teatro Cervantes
The stylish and modern Restaurante Vino Mío is one of the best restaurants in Malaga. It is located right next to the Teatro Cervantes and was opened in 2003 by a German tourist who fell in love with the sunny weather here. This restaurant hosts live flamenco performances at night, and you can also enjoy its famous traditional tapas at the same time. To complete the cultural richness of the restaurant, a show of works by various artists will be held. Make sure the tempting foods on the menu do not disappoint.
Café Con Libros
The book café opened in 1998 and is one of the top Malaga restaurants for the younger generation. This unique place is more like an attraction for bohemians. Moreover, people looking for a quiet place to study could have a variety of choices of tea, coffee, and cake along with the book. Con Libros creates a charming and enchanting atmosphere with its artistic and contemporary library décor. You can borrow something from the collection of books, newspapers and magazines in the cafe. Also, you can choose from a light and fresh menu, including salads, spinach tarts, salted crepe cheese, attractive pancakes, and local sandwiches.
Mesón Ibérico Offering Best Tapas in The City
Mesón Ibérico is famous as one of the best restaurants in Malaga. In the Mesón Ibérico restaurant, you can see a combination of past influences and modernity. It is one of the more famous Malaga restaurants in the city. Also, it offers its food in a very warm and friendly environment, providing some of the best tapas in the city. Mesón Ibéricos old elements of its original interior design are still visible here.
El Mesón de Cervantes best for Traditional Spanish Cuisine
El Mesón de Cervantes is an important stop for those who love traditional Spanish cuisine or tapas. It is known for offering the most variety of tapas and offers fish, seafood, meat, and even vegetarian dishes.
La Plaza Restaurant Malaga in The City Center
This restaurant is located right in the city center. It is only a few steps away from the birthplace of Pablo Picasso. La Plaza Restaurant Malaga will undoubtedly be one of the most popular tourist destinations when visiting Malaga. Not only is it famous for its tranquil and friendly environment, but its international cuisine also offers guests a considerable variety of choices. If you like vegetarian food, you can also enjoy delicious food.
El Pimpi for Local Traditional Cuisine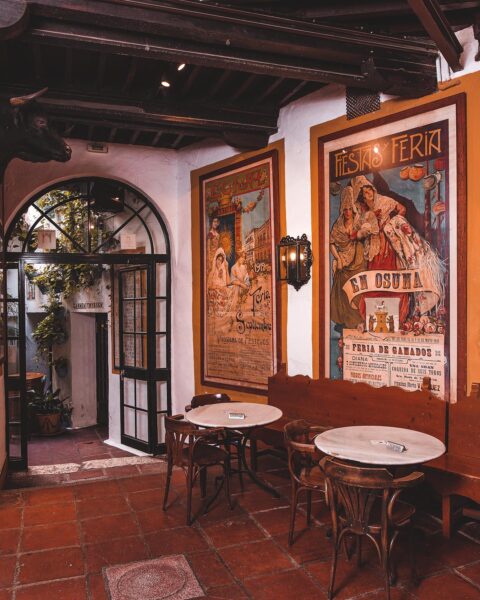 El Pimpi is a cultural destination in Malaga and a must-see for visitors. It is one of the best restaurants in Malaga. You can find it in a very unique 18th-century house. Also, El Pimpi offers its guests traditional cuisine in themed rooms and a large terrace with stunning views of the surrounding historical attractions. Many cultural events take place here, one of which is flamenco nights. You can also see the signatures of celebrities on El Pimpi.
Restaurante Amador with Beautiful Scenery
Restaurante Amador is one of top Malaga restaurants. This place is perfect for those looking for a great place to relax and enjoy the surrounding Mediterranean scenery, along with quality and delicious food. Tourists can find this restaurant in the former Dutch colony, now famous as the neighborhood of El Atabal.
L'expérience in Plaza del Obispo
L'Experience is one of the best restaurants in Malaga. Furthermore, this unique restaurant with a great location in a small but amazing square called "Plaza del Obispo." This place is definitely worth a visit. Also, this modern restaurant offers magnificent views of Malaga Cathedral. The location creates a unique and memorable atmosphere that also comes with fantastically good service and high-value food.
Also, after trying these Malaga restaurants, you also consider top tourist attractions in Malaga. This historical city has a lot to offer to architecture enthusiasts. Malaga can keep you busy with its cultural hotspots for a long time if you are planning to stay in Spain.
Cheap Restaurants in Malaga Where Locals Eat
If you want to try those affordable restaurants in Malaga where most locals eat, try Centro and La Goleta neighborhoods. These are where more budget-friendly eateries are located and have ease of access in general. Just make sure to have some cash on hand since many Malaga restaurants accept cash better, and you do not need to complicate things with credit cards.