Most Beautiful Places in Croatia
List of Beautiful Places in Croatia
In Europe, tourists generally are unfamiliar with the best places to visit in Croatia. Thus, this article explores the most beautiful places in Croatia to give tourists more information on where to go next in this country. Croatia offers lush forests, waterfalls, Intriguing architecture, and beautiful beaches. Here are some of the beautiful places in Croatia for you to consider on your next trip.
Pula City Famous for its Roman Ruins
Pula is a city and one of the best places to visit in Croatia. This city has many historical feats for you to enjoy. There is also the Pula's Roman arena, which resembles the Coliseum of Rome. Furthermore, whatever period of history you like best, you'll find something to amaze you in Pula.
The Greeting to the Sun in Zadar
Greeting to the Sun is truly another one of the most beautiful places in Croatia. It is located in the coastal town of Zadar. This structure is a big circle of glass and solar panels that collect energy during the day and then display a light show at night. Also, the designer of this wonder placed a sea organ so the motion of the waves will make a unique sound as you watch the light show.
Dubrovnik with Medieval Architecture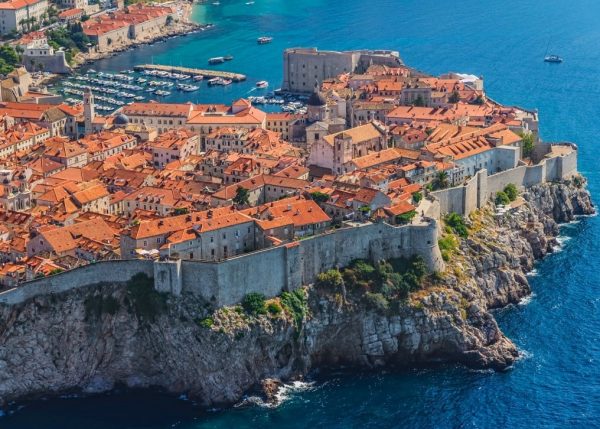 These locations became a major set for the Game of Thrones TV show. It was one of the most famous places in the 15th and 16th centuries in Europe. Currently, it is famous as one of the best places to visit in Croatia. Also, it is one of the best-preserved medieval cities worldwide. The best way to experience this place is to walk around the walls themselves. You will get the best view of the city and the water around the city.
Rovinj with Historical Buildings
Rovinj's history goes back in time and comes with the story of many tribes and empires. Through time, there were many types of architecture built here. Most of these buildings were in pastel colors and red roofs. If you like old buildings then here is a nice place to visit.
More Places to Visit in Croatia
This country is considered one of the oldest European lands, so in its important cities such as Zagreb, Zadar, Split, Dubrovnik, and Perc, you can see very beautiful and unique historical and cultural places to visit in Croatia.
Plitvice Lakes National Park with Beautiful Hiking Trails
Another popular and most tourist-friendly places to visit in Croatia is Plitvice Lakes National Park, which is on the UNESCO world heritage list. This park, with a large area with unique spectacular waterfalls, forest hills with a spectrum of bright emerald green, lakes with clear and transparent turquoise waters, and fir, beech, and pine forests, have joined hands to create a dream paradise on earth.
Vis Famous for Olive and its Vineyard
The northernmost coastal region of Croatia is called the Vis Island, which consists of several small islands and is covered with olive fields and vineyards. These beautiful places in Croatia have exemplary tranquility, and its excellent and stylish restaurants will be an unforgettable experience for tourists who love their stomachs. The architectural style of these restaurants is often similar to Venice, Italy, where traditional Croatian dishes are served alongside international and European dishes.
Punta Rata Beach on Makarska Riviera
Punta Rata is one of the most beautiful and dreamy places to visit in Croatia, located on the Makarska Riviera. The water of this beach is so clear that if you look at it from above, you can easily see the smallest stones under the water. Various amenities and promenades have been built on this beach so that tourists can use it for their stay and recreation.
Mljet National Park in The Dalmatia region
Mljet National Park is truly one of the most beautiful places in Croatia. It is located at the southeastern tip of the Adriatic Sea in the Dalmatia region. Meljit is actually a protected area and national park of Croatia. Meljet Park is located between two saltwater lakes, and it is a good habitat for all kinds of saltwater aquatic life because it has beautiful forests and coastal scenery. One of the most popular pastimes in Croatia's Meljet Park is cycling through the forests or walking on its clear and calm beaches.
For those who are traveling in Croatia, you should also check out other cities like Zagreb. Tourists can visit some of the best coffee shops and cafes in Zagreb for some quality coffee and dessert.