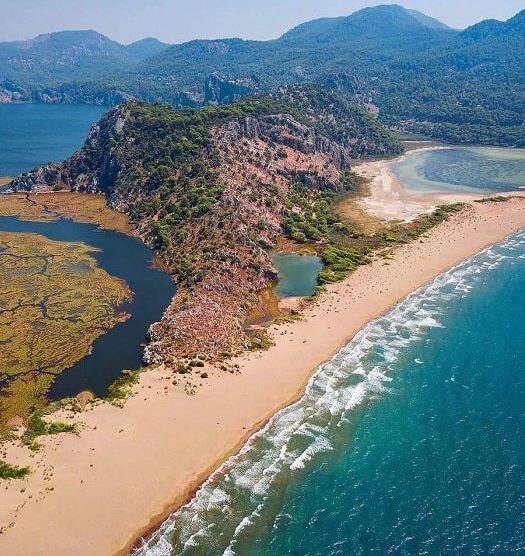 Best Beaches in Marmaris
Marmaris Beaches in Turkey are amongst the most attractive tourist destinations that attract a large number of tourists. The beaches in Marmaris are of high quality and will make your trip memorable with facilities such as restaurants and cafes and various sporting activities. Be sure to visit these beaches on your trips to Marmaris and make the most of their clear waters and white sands. There are also islands around this city, such as Paradise and Cleopatra Island, that are worth a visit. Overall, at beaches in Marmaris, you can experience various beach activities such as boating, kayaking, and parasailing.
Amos Beach in the City of Turunç
This beach, which is located in the city of Turunç, is very suitable for swimming because of its clean waters. This beach is a quiet place with restaurants and leisure facilities for travelers. Where you can relax and soak. The city of Amos is one of the ancient cities of this region, which has many highs and lows.
Bonjuk Bay a Good Spot for Swimmers
Having calm and clean water and suitable facilities on the shore of this bay has made it one of the most popular beaches in Marmaris. The beach has relaxation facilities, and swimmers usually head to this part of the city to swim in the sea.
Çiftlik Koyu a Location for Sea Cruising
This area is famous for its beautiful beach and port. It is where you can rent a boat and go for sea cruising, swimming, and fishing. Also, there is a rocky hill near this remnant area where you can take beautiful sea views. Chiflik is a beautiful small village with a beautiful beach and crystal clear waters that attracts a large number of tourists. As a result, it houses one of the most popular Marmaris beaches. The beautiful combination of blue water and greenery of the trees and forests that surround this area creates a very magnificent work of art that is very eye-catching.
Girl Sand Beach (Kız Kumu Plajı) With a Beautiful Scenery
Located in the small village of Orhaniye, 28 km from Marmaris, travelers come to the beach for hiking and beautiful scenery. The good thing about this place is that it usually is not very crowded. In fact, since the only walkable sand is in the middle of the water here, the coastline has become smaller and has lost its charm. However, it is still suitable for beach photography and hiking in nature, and its beauty attracts many travelers.
Sedir Island (Cleopatra Island) with Rocky Parts
Cleopatra Island is another one of the beautiful Marmaris beaches, which is located on the beautiful island of Cleopatra. The island is famous for its golden sand, one of the best in the world. With beautiful nature and rocky parts, you can go hiking and photography along the coastline here.
Turunç plajı Located Western Part of The City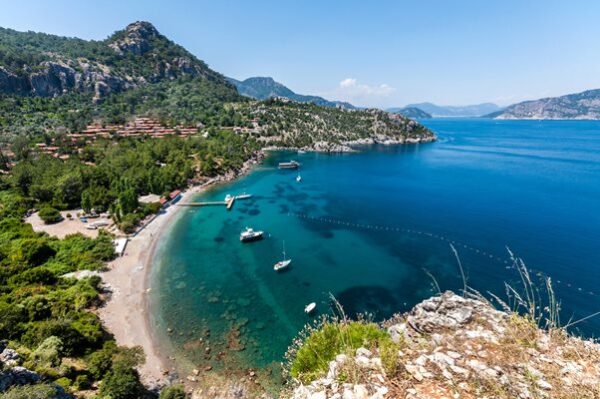 Turunç plajı or Turunç Bay is located in the west of Marmaris, and around it, there are many beautiful villages. This beach is one of the beaches in Marmaris, which is under the Blue Flag standard, which has been given to it due to its suitable facilities for boating. Along this beach, you can see the beautiful view of the forested hills and find places that are suitable for diving into the water.
İçmeler Beach With a Long Coastline
The highest of Marmaris beaches is a permanent destination for travelers who can go to the sea whenever they want. The length of İçmeler Beach is 10 km with uniform sand, also suitable for hiking and sporting activities. Moreover, you can easily buy from the many shops, restaurants, and cafes that exist along this entertainment place and easily find a secluded environment on the beach as well.
Marmaris Public Beach Full of Sun Beds
In downtown, you will find Marmaris Public Beach, which is also one of the best beaches in Marmaris. Also, it is perfect for both children and adults. The sand color is darker here and also slightly rocky. The beach is not very wide, and the upper half is full of sun beds with umbrellas that the hotel does not provide for free. If you are not residing here, you can rent these umbrellas for a small fee too. The seawater here is calm, clean, and suitable for a quick dip.
Also, head to Çeşme in Turkey if you like to visit more beautiful resting places and take some sun baths. This city is famous for its calm seas, beautiful weather, and interesting natural attractions.
Things to Do on Marmaris Beaches
Marmaris beaches are one of those places where you can experience all the fun. Beautiful coastlines, amazing cruises, water sports, adventure entertainment, fantastic restaurants, great nightlife with world-class nightclubs, and Mediterranean sunshine are just part of many things you can experience on beaches in Marmaris. Another good thing is that the prices are very good for Western tourists because of the exchange rates.