Top Shopping Centers in London
Best Shopping Centers in London
There are many shopping malls in London for shoppers. This article explores some of the best shopping centers in London for you that offer very good value for money. Shopping in London is a serious business. Many tourists come here just to do some shopping and do sightseeing. Here you can find some of the best ones for you to enjoy your day of shopping in London.
Brent Cross Shopping Centre near The Hendon Park
Brent Cross Shopping Centre is one of the best malls in London for budget shoppers. You can find this shopping center in North Londoners, which is a favorite place to hang out in the neighborhood. They provide free parking as well. Also, you can shop from Zara, John Lewis, Fenwick, M&S, and H&M in this place. To get here, stop at Brent Cross subway station and then walk your way towards Brent River until you reach Prince Charles Dr. There, you will find signs guiding you to this shopping center.
Canary Wharf Shopping Centre in Canada Square
Canary Wharf Shopping Centre is truly one of the most beautiful shopping centers in London. This underground mall is not common to people outside of London. You can visit 120 stores spread over 5 malls here, which are mostly for London's blue-collar workers. Here, you can shop from any stores like Superdry, River Island, and Topshop, as well as Ted Baker & Karen Millen. Canary Wharf train and subway stations are just next to this shopping for ease of access.
Westfield Stratford City close to Stratford Metro Station
Westfield Stratford City is one of those malls in London that are not massive; however, they provide most essentials to buyers. In this shopping mall, you will see brands like Waitrose, John Lewis, and M&S. For your leisure, there are over 80 cafés, restaurants, and bars, as well as a cinema and a bowling place.
Boxpark in The Shoreditch High Street District
Boxpark is one of the smaller shopping centers in London, offering a more niche shopping experience. There are a lot of boutiques and gourmet foods available for you to enjoy. This redesigned mall located at Shoreditch High Street Overground Station brings a shopping experience and street food for independent businesses in the neighborhood.
Westfield London in The Shepherd's Bush District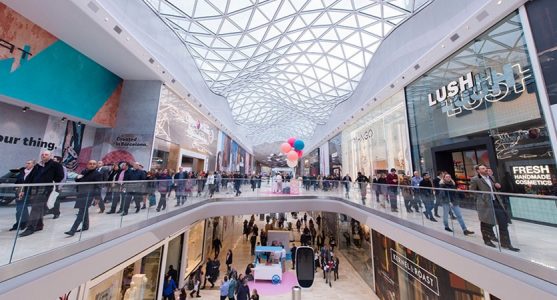 Westfield London in the Shepherd's Bush district is one of the largest malls in London and an amazing place for shoppers. The size of this mall is about 46 acres and stretches over 9 different postcodes. During its initial opening in 2008, Westfield London was Europe's biggest shopping center. It has over 360 stores as well as 50 cafes & restaurants. Therefore, you are sure to get lost here for the first time.
Famous Malls in London
The city of London, in addition to unique tourist and tourist attractions as well as entertainment places, has exemplary shopping centers that attract shopping lovers from all over the world to this city. The streets of London are full of shops and shopping centers that can keep you busy all day long. The shopping malls in London are famous among all shopping centers in the world. There are many choices for all kinds of goods in these magnificent shopping centers in London.
Selfridges on Oxford Street
On the north side of Oxford Street, in the heart of London, stands a building whose windows have dazzled the eyes for more than a hundred years. Strange, rare, and expensive goods and unexpected events are only part of the heritage of one of the most luxurious, oldest, and most unique shopping centers in London and even in the world. In Selfridges, the most famous, most expensive, and most unique beauty and cosmetic products, clothes, perfumes, ornaments, and personal and household items are available under one roof.
Hamleys Store for All Kinds of Unique Toys
Hamleys store on Regent Street is a place you must visit. This seven-story store is one of the largest toy shopping centers in London and one of London's most unique tourist attractions. This store is not only exciting for children to roam around, but it is also interesting and fun for adults.
Liberty Department Store on Marlborough High Street
Liberty Department Store, commonly known as Liberty, is a luxury department store in London, England. This store is located on Marlborough High Street in London's West End. The store sells men's, women's, and children's clothing, cosmetics, and homewares from a mix of high-end and emerging brands and labels.
Carnaby Street located between Oxford and Regent Streets
Not exactly a Mall, but this street is the cradle of the fashion and cultural revolution in the 60s, which includes 13 streets between Oxford and Regent Streets, which include a variety of shops and shopping centers with stylish and famous brands. You can choose luxury cafes here to relax and have some of the most unique High tea experiences.
If you are here as a tourist, try visiting the best attractions in London. This city offers a lot of historical sights, as well as Royal castles and beautiful parks. All of these are suitable for you to spend time there and enjoy the beauty of this city.