A List of the Best Restaurants in Doha
Doha has some of the best restaurants Qatar has to offer in terms of quality. If you are a traveler, you should dine in the best restaurants in Doha to enjoy their excellent reception and their delicious cuisines. In fact, one of the beauties of traveling is eating food belonging to that location. Having delicious and unique food is an interesting experience that can not be experienced everywhere. Although you should not miss the historical buildings and natural attractions of a city or country, however going to the prestigious and famous restaurants of Qatar is also one of the important attractions of the trip.
Ruby Wu's at Radisson Blu Hotel
It is surprising to know that there is a Chinese restaurant at the Radisson Blu Hotel in Doha. Ruby Restaurant is one of the best restaurants in Doha that serves authentic Chinese cuisine, including steamed chicken and shrimp dumplings (Shumai) and a mixture of shrimp and fried Sichuan cashew nuts. Ruby Wu's is also close to a few of Doha's nightclubs. This makes Ruby Wu's an ideal place to eat and enjoy some nice nightlife. Offering Chinese cuisine from different parts of the great country, all tailored to international tastes. Their prices are very reasonable here.
Asha's in Villaggio Mall
Asha's is one of the best restaurants in Doha, located in Villaggio Mall, offering a fresh and exotic innovative style of Indian cuisine. This restaurant combines the home cooking of North Western India with a new-age fusion touch. Here, you get to enjoy the most flavorful of meats and spiced dishes to excite your taste buds. It offers a vibrant atmosphere with the same vibrancy, warmth, and charm as India.
Saffron Lounge in Katara Cultural Village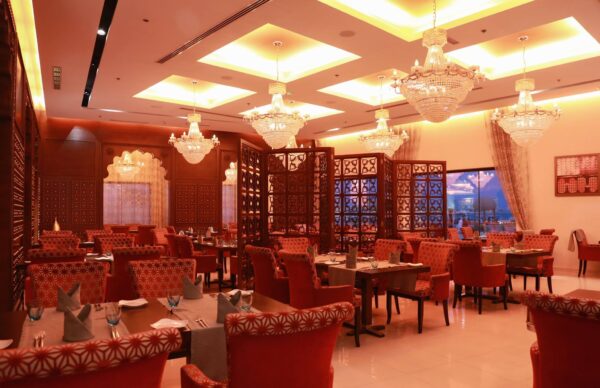 Found in Katara Cultural Village, Saffron Restaurant is truly one of the best restaurants in Doha for Indian cuisine. This restaurant has a Michelin-starred kitchen and offers a mix of different local dishes. The interior of this restaurant is covered with red, which manifests itself in various colors that can be seen in its various spices and dishes. After a meal, the restaurant's tea lounge can offer you a variety of aromatic drinks. You can refresh your palate after a spicy and tasty main course.
Vine Restaurant in St. Regis Doha
Vine Restaurant in St. Regis Doha offers unique Arabic hospitality together with excellent international cuisine. The white marble interior shines with the light from the large, tall windows covering this restaurant. Therefore, this makes this restaurant one the best restaurants in Doha for relaxing dining in the evenings. Here, fresh ingredients are used to create a food buffet with a large number of options on its menu. The restaurant's Friday barbecue menu is very popular, and they use the best ribs in town to prepare them.
Prime Steakhouse at InterContinental Hotel
Prime Restaurant is one of the few best restaurant Qatar has to offer to meat lovers. It is an ideal place for those who love their steaks. The good thing about this restaurant is that its dishes come in large portions. All of these meals are prepared from the prime cuts. Customers can choose from 4 different types of beef variety. All the meats here are sourced from either American or Australian beef breeds. Wagyu meat steaks here are one of the best you get in the Middle East and in the country. In addition to beef steak, a variety of food options are available to customers, including foie gras, lamb ribs, meat carpaccio, and sea urchins.
Mykonos inside Intercontinental Beach Hotel
Mykonos is an authentic Greek restaurant near the coast of Doha. It is one of the best restaurants in Doha because it has one of the most beautiful views of the city. This restaurant is another good option on the list of Doha Intercontinental Hotel restaurants, offering a variety of Greek cuisine in a Mediterranean-style setting. The menu of this restaurant has dishes ranging from salads to moussaka, Taramasalata, or even tzatziki.
Ric's Kountry Kitchen at C-Ring Road
Opened in 1997, this restaurant is one of the oldest and best restaurant Qatar has to offer for budget-minded individuals. The menu is a delightful option for binge eaters with hearty options. Ric's Kountry Kitchen prepares everything from bread to hamburgers themselves. Apart from the big burgers, pancakes, steaks, and breakfasts of this restaurant, Ric's Kountry Kitchen is also famous for the quality of its apple pie. This place is popular with both locals and outsiders alike for its friendly environment and good dining experience for some filling meals.
W Café in W Doha Hotel & Residences
W café, in W Doha, is among the best restaurants in Doha for light meals and healthy breakfasts. These breakfast options include Eggs Benedict Breakfast, W Breakfast as well as Egg Croissant. They also sell a nice selection of juices, Smoothie & Shake. You can choose your favorite snack from the indoor refrigerator as well.
Eggspectation Restaurant near Medina Centrale
Eggspectation Restaurant is one of the best restaurants in Doha for morning meals. This is a Canadian restaurant that offers some of the healthiest and best breakfasts in the city. They focus mainly on making almost everything with eggs. Their prices are not cheap; however, the flavor is acceptable. Since it is a diner, you can get other breakfast and lunch options here as well. Moreover, the Eggspectation location is on Alhambra St, close to the Medina Centrale car park entrance.
After visiting these eateries, check out the top Doha nightlife spots for some memorable night outs. These joints offer great cocktails, imported beers as well as nice music. Since the country is an Islamic country, make sure to only drink at these places for your safety.
Finding the Best Restaurant in Qatar
The city of Doha is where to find the best restaurant Qatar has to offer you, as they have modern designs and proper chefs making great food. To find these restaurants, you should head towards the port area as well as famous hotels. Because of Qatar's expansion and the arrival of international individuals, the variety of food you get has also increased, and there are restaurants for every cuisine and budget imaginable. It is, however, good to note that the prices lean on the high side as most of these eateries cater to upper-middle-class diners.