Top Restaurants in Swakopmund
Best Restaurants in Swakopmund
Restaurants in Swakopmund offer more international flavors to locals and tourists in Namibia because of the influence of past German settlers here. Also, since this is a coastal city, you get to enjoy fresh seafood, and due to its proximity to the capital city of Windhoek, you will get top-quality meat for prime steaks.
BlueGrass near Platz Am Meer Mall
Very close to Platz Am Meer shopping mall, near Breakwater Pier, you will find one of the top restaurants in Swakopmund, which is Bluegrass. This restaurant might look like a finding institution; however, it is an excellent value-for-money restaurant. It is because the portions are big, and the flavor is definitely not lacking. Some of the favorite local meals here include kingklip, pork belly, rib-eye steaks, as well as chicken and waffles.
The Tug Restaurant just at the Jetty Bridge
The Tug Restaurant opened in 1993 and is located between the Atlantic Ocean and Namibian Coastline. This restaurant has a magnificent view of the famous Swakopmund jetty. The expansion of this eatery is available both on the outside as well as inside. Some of the seafood dishes here include Kingklip, kabeljou, lobsters, angel fish and sole, sashimi, and local oysters accompanied with fresh green Swakopmund asparagus. The attention to quality and freshness of their products is top-notch here, ensuring quality food at all times.
Swakopmund Brauhaus a German Restaurant
Swakopmund Brauhaus is the place to go for experiencing Bavarian-style German meals as well as some local food. In fact, it is one of the best German restaurants in Swakopmund for experiencing old German settlers dishes with modern twists. The atmosphere here is always warm, inviting, and very festive. You get to see many flags hanging from the ceiling giving a sports bar feel to this restaurant. As for the drinks, they serve many different types of German and local beers as well as wines and spirits.
Garnish an Indian Restaurant
Garnish is a typical good food restaurant offering a variety of Indian cuisine and warm hospitality very close to Altstadt Restaurant. Their meals are made from high-quality, seasonal ingredients with a high percentage of organic ingredients. Also, the menu in Garnish offers a wide variety of healthy dishes. Truly, Garniche is an authentic "Indian" restaurant that honors different culinary traditions and infuses them from its own unique creative point of view.
The Fish Deli in the City Center
Opened in 2008, The Fish Deli was one of the very first seafood restaurants in Swakopmund to offer great food right from the Namibian Coast. Located on Sam Nujoma Ave, you will get smoked fish, fresh oysters, and many nice drinks on the side. Also, if you wish to cook at home, Fish Deli has some great ready-made meals like marinated fish fillets and stir-fried calamari. Another great meal you get here is sushi which is prepared with fresh products gathered locally.
Altstadt Restaurant on Anton Lubowski Avenue
You can find Altstadt Restaurant in the center of the city, offering great beer and amazing bar food. What makes this restaurant great is that it is super cozy, and you will get amazing bar-style food at great prices. If you want a laidback environment and to chat with some interesting people, then head to Altstadt on Anton Lubowski Ave.
The Wreck Restaurant at Beach Lodge
The Wreck Restaurant is another great place to see the beautiful sea view, and it is currently one of the best restaurants in Swakopmund. This restaurant is located on the second floor of the Beach Lodge, very close to the coast side. The food here is on the premium side serving International cuisine in a romantic setting.
Old Steamer Restaurant inside Alte Brücke Resort
Old Steamer Restaurant is part of Alte Brücke Resort which you can find a short distance away from the beach. This restaurant is in the older part of the city, almost a kilometer away from the center of Swakopmund. In the Old Steamer, the menu changes three times every week, which mostly includes seasonal foods. However, fillet steak is always available on the menu. Also, they have three different desserts on it, which you can choose and accompany with their bottomless tea and coffee.
Jetty 1905 Restaurant Located On the Jetty Bridge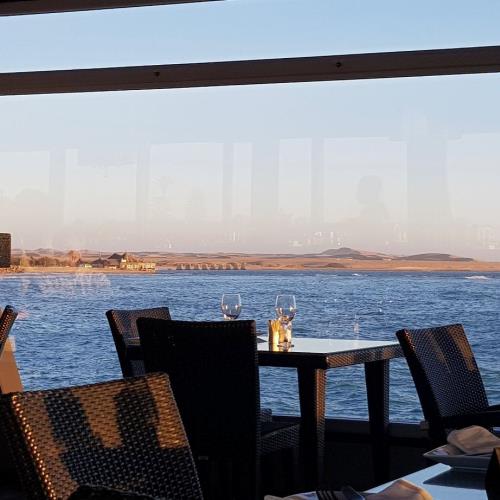 Jetty 1905 Restaurant got its name because it is located at the end of a jetty which was built in the year 1905. After so many ups and downs, this restaurant reopened in October 2010. Since then, it has become one of the most amazing restaurants in Swakopmund. This restaurant is special because it is located right after The Tug Restaurant at the end of the jetty, offering a great view of the rough sea and beautiful sky.
In fact, the panorama view of the sea through the glass windows makes dining here even more pleasant. Also, they have excellent service and tasty dishes. Some of these dishes include steaks, sushi as well as many vegetarian options. This place is perfect for your romantic evenings or when you want to celebrate your special moments.