7 Most Beautiful National Parks in Europe
Best National Parks in Europe
This article introduces us to 7 most beautiful national parks in Europe. If you're thinking of landscapes, you're most probably thinking of the Alps mountain. Europe has more to offer so don't miss visiting these beautiful national parks.
1. Snowdonia National Park in Wales
Snowdonia is good if you are a hiker. It has about 1500 miles of trails through the whole park. The northern parts of the park are the most famous among tourists. You can find Snowdon Mountain, the park's biggest mountain in both England and Wales. One thing to keep in mind is that some parts are private properties therefore, make sure to stay on known routes. Also, if you want to go fishing, be sure you have the right license for that.
2. The Lake District National Park in Cumbria England
England's countryside offers beautiful scenery with large hills. The Lake District National Park is truly one of best national parks in Europe. Here, you'll get green, deep purple as well as blue colors the likes you won't see nowhere else worldwide. Also, there's a lot of history in the area with everything from castles and abbeys to the Neolithic Castlerigg Stone Circle.
3. Goreme National Park in Turkey
Goreme is a fantastic place to visit, from its cave towns to its unique sceneries. One of the best experiences that you can have in your life is riding morning hot air balloon over this landscape. They are also famous for being fairy chimneys. Also, hiking and mountain biking are available for tourists of all ages. Further, there's a local bathhouse in the center of Goreme town where you can take a rest. Just don't travel here during the summer time, when it's very hot. The best time visiting there is during the spring or fall.
4. Oulanka National Park in Finland
The Oulanka National Park is another one of beautiful national parks in Europe. No matter what time of the year you visit here, you're sure to find some fantastic scenery waiting for you. Also, you'll should not go there during the spring, when might get flooded. However, in the summer, you only see bright green color. In Autumn, the vegetation will change over to brilliant orange and yellow color. In the winter time, when everything is white, the trees will give you a very beautiful scenery.
5. Plitvice Lakes National Park Located in Croatia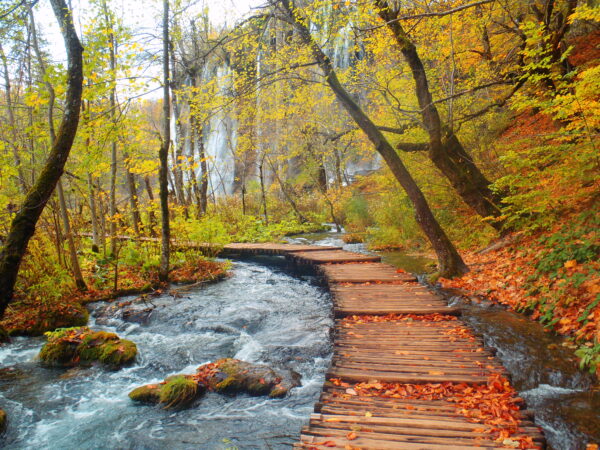 No matter where you look in this park, it truly looks a bit unreal. However, if you were thinking of taking a dip in these blue waters, that's forbidden. However, there are plenty of other great sports to enjoy like hiking as well as go swimming in one of the pools in the nearest park.
6. Dolomiti Bellunesi National Park in Veneto Italy
The Dolomites are part of the Alps, but they look nothing like what you're picturing. In many places, these unique formations seem to go straight into the air. There are a lot of outdoors activities that you can enjoy, like climbing, skiing, hiking as well as para-gliding. You can stay inside the park in accommodations varying from hotels to mountain huts.
7. Triglav National Park in Slovenia
This park is the only national park in Slovenia and one of most beautiful national parks in Europe. It's another of those parks where you need to see it to believe it. The best here is to stay along the shores of beautiful Lake Bohinj or in one of the mountain rooms, where you'll have the chance to enjoy your surroundings. In summer, tourists as well as locals head to the rivers in the park for water activities. Hiking is also famous here, and you can get great views from the peaks.
If you feel more adventurous, try visiting most amazing volcanoes in the world. These unique volcanoes are all over the world. Some these volcanos are active and some of them are dormant. It is worth visiting these interesting places and try hiking on some of them.