Best Places to Get Cheap Food in Fethiye
Budget Food in Fethiye
This article explores the best places to get cheap food in Fethiye for tourists and travelers. Fethiye is usually a tourist destination in the fall season. This place is becoming a more laid-back destination, with more locals than tourists wandering around. Same as any other tourist city, the prices can be a bit higher, and you might need to look a bit further for places that offer good deals at an affordable price. Here are a few places to have budget food in Fethiye if you are traveling to this city on a budget.
Nazilli Pide near Paspatur Çarşısı Shopping Mall
Pide is one of the main food in Fethiye. This particular restaurant is highly recommended by the locals because of its friendly staff, its very tasty pide as well as its very reasonable prices. Also, you should give their famous "Tahinli pide" a try. Other than pide, customers can order Kunefe dessert here too at very cheap prices. This pide restaurant is located near the Paspatur Çarşısı shopping mall, accessible from Çarşı Avenue on 97 Street.
La Capella Cafe Bistro Restaurant on Dispanser Street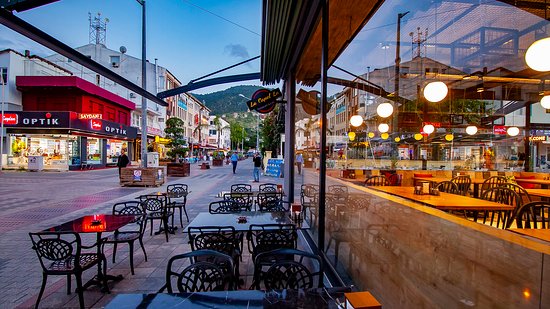 This lovely bistro is simply amazing due to the fact that it is very classy and its pricing is reasonable. You will be surprised by how its cheap food has such a high quality. Their staff is very friendly, and you are sure to leave this place with a smile on your face. Most of the locals come here for their amazing breakfast menu, but throughout the day, they serve great quality food in Fethiye. Also, it is more suitable for families as they have a larger dining hall on the inside accommodating larger groups of people.
Arty's Fish And Chips on Cumhuriyet Road
This chip shop is probably the best fish and chips you can get in town. The food tastes great, and their seafood is super fresh. Expect good portions at cheap prices. Also, they serve chilled beer on the side if you want, and that is why you can find many foreigners or expats dining here for some quality fish & chips. Make sure to try their fried prawns here, too. They also speak good English, but that is not an issue because the menu is simple. You can just point it out on their printed menu, and they will serve it to you with a big smile.
Ailem Cafe Restaurant in Cumhuriyet Neighborhood
Here is another fish & chips shop in the city that offers more food choices rather than just fish. The prices here are affordable, and the staff is doing their best to give you a good service. The main food here, as it is located near the port, is fish. In fact, many of the foreign customers order fish & chips because the prices are good and the fish is very fresh. Also, if you want, they have other Western meals and Turkish grilled fish, too. Most of the customers here love to sit outside because the weather in this city is overall good, and you can see the city come alive, especially during the evening hours.
EJ's Cafe Bistro a Homey Restaurant
This place is a family-run business, and they provide lovely home-cooked food at a reasonable price. It is a cozy environment that feels like a homey restaurant.
Update: This cafe is no longer operational.
Also, you should consider checking out the best places to drink for good nightlife in Fethiye if you are going for a memorable outing. These places offer many kinds of beverages, mostly locally provided.