Best Restaurants in Taksim Square
Top Restaurants in Taksim
Istanbul is a magical city located between Europe and Asia and has a very tumultuous history where you can find best restaurants in Taksim Square to dine in. In this city, magnificent and historic mosques, markets, museums, shops and shopping malls. Also, numerous restaurants have made the city one of the most popular tourist destinations. One of the most famous and popular areas of Istanbul is Taksim square. Here is the starting point of the famous Istiklal street. In this article, we want to introduce you to the best restaurants in the Taksim district of Istanbul that offer the most delicious Turkish and international dishes to customers.
When in this city, you can travel to other parts to check out the other top 7 restaurants in Istanbul. You can find these restaurants around the city not just at Taksim square. These joints most offer Turkish food that you will sure remember for a long time.
Otantik in Tarihi Tokatlıyan İş Hanı ve Pasajı
Otantik restaurant is one of the best restaurants in Taksim area in Tarihi Tokatlıyan İş Hanı ve Pasajı area. It specializes in cooking and offering a variety of Gözleme breads and other traditional Turkish dishes. Gözleme is the name of one of the traditional Turkish breads that is very delicious. The prices of this restaurant are affordable and the food is offered to the customers in the original and traditional Turkish atmosphere.
The lamb kebap of this restaurant is famous for its special flavor and has brought in many fans with its crisp and juicy texture. Some of the best and most famous Turkish desserts such as goulash, which is prepared with milk, rose and pomegranate, are also served in this restaurant.
360 Istanbul in Tomtom Neighborhood
This restaurant is located on a rooftop and with its glass walls and 360 degree view of the city of Istanbul, it makes you feel floating in the air. The menu of this restaurant is a combination of Turkish, Mediterranean, Indian and Italian cuisine and is one of the best restaurants in Taksim area with delicious appetizers, desserts as well as delicious drinks. On some nights, live music performances are held at the restaurant, which adds to the excitement and good vibe of the restaurant. In addition to food, customers can choose from a variety of delicious and refreshing drinks and enjoy the taste of traditional drinks.
The House Cafe in Cihangir Area
The House Cafe Restaurant is located in the historic Mısır Apartment and with its western and stylish, it is one of the best restaurants in Taksim area. Beautiful and bright lighting, spacious restaurant interior and pleasant and gentle music that is played in the background creates a lovely place to eat. The chef of this restaurant is trained in one of the best cooking schools in Italy and offers the best service and food to customers with artistic design.
Faros Restaurant Taksim near Kocatepe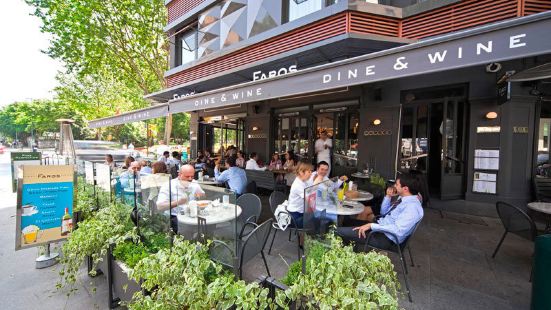 Another of the best restaurants in Taksim district of Istanbul is Faros Restaurant, which specializes in Italian and Mediterranean cuisine. The restaurant is also famous for its buffet breakfast throughout the day, Moreover, many people choose this restaurant to eat Sujuk or Turkish sausage. There are also other options and completely vegetarian dishes on this restaurant's menu that you can choose from. From this restaurant, you can observe the view of Taksim Square and enjoy your food.
Eleos Restaurant located Between Beyoğlu and Istiklal
Eleos is a hidden gem on the second floor of a historic building near the old Istanbul tunnel. You can find it between Beyoğlu and Istiklal as many tourists may be unaware of it. This Greek restaurant is one of the best restaurants in Taksim district of Istanbul. Also, it has become very popular by offering traditional Greek and Mediterranean drinks and traditional cuisine. Eleos Seafood Restaurant has a cozy and lovely atmosphere and with the view of the Bosporus. This restaurant is one of the best restaurants in the Taksim area to try a variety of seafood and fish dishes.
Leb-i Derya with Beautiful View of The Bosporus.
Another of the best restaurants in Taksim district of Istanbul is the Leb-i Derya restaurant. It is located on an open and spacious terrace and has a unique view of the Bosporus. In this restaurant, you can order a variety of Turkish mezzes and appetizers along with Western and international dishes such as Nacho and Cajun chicken. Most of the restaurant's dishes are meat dishes such as steak and kebabs. Therefore, this restaurant may not be very suitable for vegetarians. For breakfast and snacks, you can enjoy a variety of traditional Turkish breakfasts dishes with a cup of Turkish coffee.
Meze By Lemon Tree
Meze By Lemon Tree is a of traditional Turkish restaurant that serves customers with a modern and contemporary decor. This cozy and lovely restaurant is located next to The Pera Hotel. Also, it offers you authentic and traditional Turkish cuisine with modern creativity.
The menu of this restaurant is very diverse and the waiters are eager to help and guide the customers in choosing the food. One of the most interesting Turkish appetizers here is İmam bayıldı, which is actually eggplant together with cheese and onions. Traditional Turkish music is in the background while eating in the space, which adds to the intimacy and charm of this restaurant.
*Update: Meze By Lemon Tree is not currently open.