Best Bars for Clubbing in Mykonos
Clubbing in Mykonos brings some of the best memories you can imagine. If you want to experience the best nightlife Mykonos has to offer, you need to be there during summer season. In general, people head to this island to relax and a good nightlife while observing the beautiful scenery that is available throughout this beautiful part of Greece.
Addiction Club Mykonos
When it comes to some the best nightlife Mykonos has to offer to tourists, Addiction Club Mykonos is the place to be. There are good drinks as well as a nice dance stage for you here. Addiction Club Mykonos is the place for clubbing in Mykonos if you want to meet slightly less snobby people in Mykonos.
*Update: This club is currently not operational.
Rhapsody near Kato Mili Windmills
Rhapsody might be the best bar for a nightlife Mykonos has to offer. The view and atmosphere at Rhapsody is just fantastic. This is a very nice bar in the center of little Venice neighborhood with great sundown and sunset view. The cocktails are reasonably priced and well made by expert individuals. Moreover, Rhapsody is an amazing place to stop by and enjoy the view of the Kato Mili windmills.
Skandinavian Bar in Georgouli
Skandinavian Bar is the landmark place for clubbing in Mykonos. This joint is in operation since 1978 and it is the best known meeting point of the island. In fact, Skandinavian Bar, in Georgouli, is a leader in nightlife Mykonos since 1978. This bar is a real meeting point for many young people, for attending cocktail bar and enjoying relaxing disco-music. It also includes two outdoor bars, a terrace as well as a VIP area.
Moni at Agia Moni Square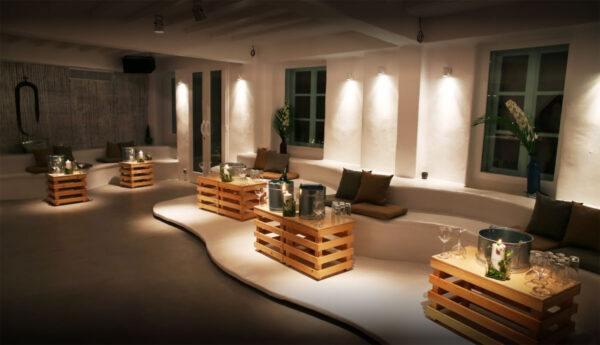 For your clubbing in Mykonos, it is good to know that Moni operates from May to October every year. At Moni you can enjoy cocktails at the existing bar. if you are coming with you group, you can as well reserve a table by contacting them only using email due to their limited number of tables. It is good to know that dress code here is always island Chic and they prefer you come with a mixed group.
To find Moni, go to Mykonos Town using the Old Port or the Windmills. From there you can reach within 5 minutes. Also, you can ask anyone one and they will guide you to this amazing bar.
Porta Bar near Church of Panagia Paraportiani
Porta Bar is a very gay friendly bar on the island. If you want to have a good time out and feel like exploring different type of clubbing in Mykonos, then this bar is a good option. This bar has a nice vibe to it and you can enjoy hopping here after walked through the streets of the island. Also, you can find this bar a very short distance from Church of Panagia Paraportiani.
Queen of Mykonos on Enoplon Dinameon Street
To find Queen of Mykonos, you should head to the center of Chora. Queen of Mykonos is suitable place for enjoying the vibrant nightlife Mykonos provides. You can enjoy watch local scene while drinking some of the nicest cocktails in town. Furthermore, this is a champagne as well as a cocktail bar. Also, it is a great meeting point to mingle and participate in clubbing in Mykonos in the cosmopolitan island vibes.
If you want to visit other great locations for relaxation in Greece, then you should check out the top beaches in Santorini. The amazing Santorini Santorini is famous for its turquoise blue waters and iconic white-blue buildings. You will definitely enjoy travelling this part of the world.