Best Renaissance Festivals in USA
Best Renaissance Festivals in USA
Renaissance festivals and Renaissance fairs have gained popularity in recent years. These festivals are perfect gateways for individuals who want to have some good times and see meet other people as well. Sometimes, they are a pathway to rekindle human emotions which have hidden through living the city life. Since many of these festivals are in open spaces, you really get to enjoy nature and experience century old music and artworks. In this article you get to know some of the best fairs in the United States that offer great ambience  for those who love to see a modern twist of medieval times.
Texas Festival
Texas Ren. Festival is the biggest amongst the top renaissance fairs in the country. They have been giving amazing times to enthusiasts since 1974. This is a large area, approximately 70 acres. The price here varies depending on the type of festival. The general prices are around $13 to $30 in most cases. If you are planning to bring children along it is good o know that if they are 12 or below that age, they get to enjoy half-price tickets on Saturdays and free of charge admissions on Sundays.
In general, it is a family friendly place. You can be sure that safety and providing happiness are the organizers top priorities. Some of the main activities here include King's Feast, Scape Room as well some tea or Bourbon tasting activities here. As the sun sets, you can partake in making bonfires, listen to night music and some other performances.
Ohio Renaissance Festival
Located in the village of Harveysburg, in Warren County, Ohio Festival is another one of recent Renaissance festivals that has gained traction by its amazing events and its beautiful scenery. The main performances comprise of 4 categories of action, comedy, acrobatics and comedy. Aside from shows, they offer a wide range of other activities. You can partake in their games and available rides as well here. Try archery, axe and knives throwing context to assess your aim. Also, ride on their famous Sea Dragon and Ship Swings to get more adrenaline rush. Some of these activities are dedicated for children here. As for the price, the season ticket will cost you around $60, however, for a day visit expect to pay around $20. Children's admission fee is generally half the price of an adult ticket.
Bristol Renaissance Faire
Bristol Ren Faire is located in Kenosha County in Wisconsin. It is truly one of the most famous renaissance fairs in the country. There are hundreds of shows involving acrobats, musicians and comedians operating from 16 different performance areas here. As for the accommodation, if you are visiting from out of state, you can reside in DoubleTree by Hilton which is the closest hotel to this fair. The admission price is at $26 for a day, children half the price, and the seasonal pass will cost you $160 or all ages.
The New York Renaissance Faire
This New York show is truly one of more joyful renaissance festivals around. It has all the characteristics of a good fair like amazing pub crawl, beautiful natural gardens, skilled performers and most important of all interesting crowd. The main theme resembles a 16th century English village where you get to see pirates and fairies and see masterful artisans at work making beautiful artefacts. Evne though New York state is famous for being pricy, the admission fee is reasonably priced at $30 and the full season pass would cost you around $180.
Maryland Renaissance Festival
Amongst the biggest Renaissance fairs accommodating a 27 hectares of area in Crownsville, Maryland Ren Festival is a place to be. The main part of this festival is the hose riding and the numerous artisans creating unique crafts that you can purchase. The pricing for this fair is divided into 2 phases. One is from late August to mid September costing you $21 and the other is from mid September to late October for $28.
Pennsylvania Renaissance Faire
Pennsylvania offers two separate Ren festivals, one of them takes place in West Newton and the other in Manheim. From Aug 21st until Oct 31st, Pennsylvania Faire has many interesting shows to offer to enthusiastic crowds. It is a more quiet fair in comparison to the Pittsburgh fair in West Newton town. If you are happen to be in Pennsylvania, try visiting both these fair each have something to offer to both adults and children.
Carolina Ren Festival
Carolina Ren Festival is perhaps one of the longest running renaissance fairs in the country. This is a 16th century European themed fair. It runs for 7 weeks straight in a 25 acres area from October 2nd to November 21st. One of only caveats here is that you cannot bring your pet inside the fair. A day pass ticket price will cost you less than $30, however, if you want to attend most of the events you can expect to pay up to $160.
This is a glamourous fair and has a lot to offer for the price you are paying. The knight battles, the carefully crafted clothes, beautiful medical houses will definitely amaze you here. Next time you are in North Carolina in that time frame, head to Huntersville to attend once in a life time event of Carolina Renaissance Festival, You will definitely not regret it especially after watching its royal falcon show and amazing southern hospitality.
Georgia Ren Festival
Through April 9 thru May 30 one of top southeastern renaissance festivals comes to life. In the Fairburn city just second driveway on the right when approaching west on Highway 74 is the entrance to this happy place. This festival is big on cosplay and you will see many dress for the occasion. This is recommended place for kids and people eager to spend some money to buy from skilled artisans here. Like many other festivals they offer games and rides for children. However, what sets this place apart is the new introduction of Camel Rides. It  good to know that you can park you car free of charge in the vicinity of the park.
Sherwood Forest Faire
Sherwood Forest Faire is another one of Texas renaissance fairs which is located in McDade community. This fair is more music oriented and there are a lot of Celtic musical performances here. Other than music shows, you can expect to see magic shows, jesters, falconers and sometimes even fighters in there. The admission fee here starts at $16.00 and on the weekends it becomes half the price.
Scarborough Ren Festival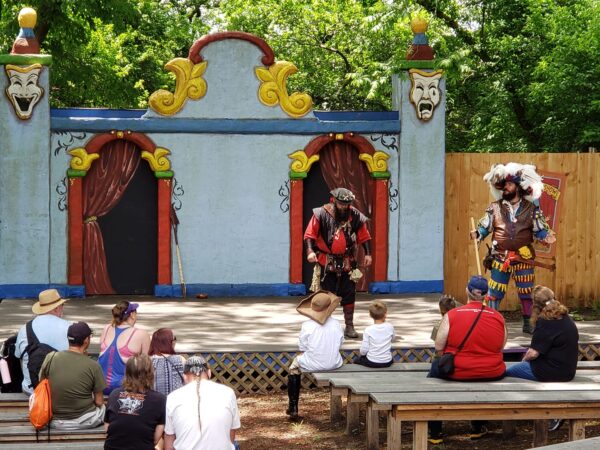 When visiting Waxahachie county in Texas, you can head to Scarborough Ren Festival. It is one of more humble renaissance festivals across the country. Also, locals know this festivity as Scarborough Faire as well. There is no shortage of activities here and you can choose to attend any hundreds of recurring shows here. They have it all here. From animal shows, dance shows, music theaters, fire and sword shows and many more interesting acts. Some of other activities for family and children include parakeets watching, Unicorn Experience as well as many interesting fun games and rides. For less than $40 you can get to this festival and enjoy some amazing time in there. Although, children still need to pay, however, it is substantially less, neighboring $20.