Some of The Best Flea Markets in Baltimore
Largest Flea Markets in Baltimore
There a a few flea markets in Baltimore that worth visiting to find antique items and collectibles. The ones mentioned here include some wet market on the side or offer smaller and more specialized approach to this finding great quality used products. Baltimore, as a crucial part of Maryland, has a a lot of history behind it and as a result you will find many old vintage collectables if you visit these flea markets.
Patapsco Market near Patapsco Arena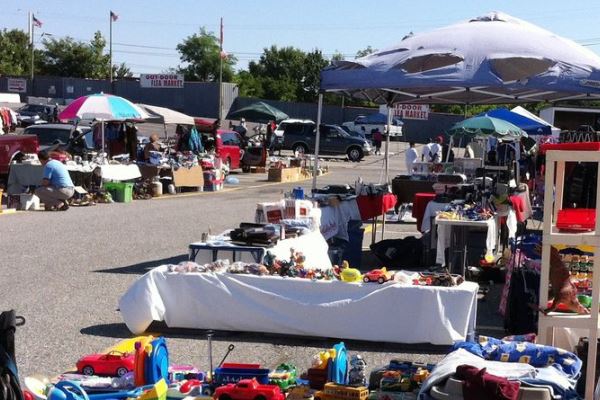 Patapsco Market has been operating for more than two decades and it is one of the biggest flea markets in Baltimore and even in the East Coast. This market provides a fun shopping experience where you can purchase affordable hand-crafted items and quality merchandise. Some of interesting products found here include jewelry, clothing, household decorations & accessories as well as many other second-hand goods. The vendors selling these items are scattered across an area of 230,000 square feet in both outdoor and indoor settings. The indoor part is open all-year round but the outdoor market is dependent on the weather conditions.
Also, if you feel hungry during or after your shopping journey, there is a food court here that provides international cuisines ranging from Mexican, Asian and Mediterranean types. There are even stores dedicated to serve sweets and other delights for young children. The operation times are every Saturday and Sundays from 9 in the morning until 5 in the evening. To visit here, head to 1400 West Patapsco Avenue a few minutes away from the Inner Harbor, very close to Annapolis Road. For those travelling by public transport, they can take any of the buses like 29, 73, 75 or CityLink Yellow Line to get here.
North Point Plaza Flea Market in Dundalk
North Point Plaza is another one of great flea markets in Baltimore city where you can find what you are looking for from over 200 family-owned vendors. They are currently located in Dundalk in Maryland. Most of the items found here are inexpensive and used goods. The good thing about visiting this market is that every week there are new merchandise available and most of the vendors are friendly and responsive.
Also, there is a separate Amish Farmers Market available here. It is where you can purchase fresh fruits, meat produce, cheese and lots of baked goods and candies. Similar to Patapsco Market they are only operational on Saturdays and Sundays. The nearest bus stop is located near the "Maple Road" and bus number 62 stops there.
The Parisian Flea located near Wyman Park
Since 2012, The Parisian Flea has been the destination for those who want to find antique jewelry or other quirky items of the past. After a few relocations, they are now residing at 843 West 36th Street in a brick and mortar shop in Maryland. This shop is a great place for those who have small watches or antique jewelry and want to repair them. They can even tell you about your item's worth as well. The location of The Parisian Flea is perfect for grabbing some food afterwards. There are many restaurants and fast foods nearby.
Baltimore Farmers' Market & Bazaar Under the 83 Bridge
The Baltimore Farmers' Market & Bazaar might not accommodate the biggest flea markets in Baltimore as it is mainly for fresh produce, but there is still an artisan section where some vendors sell collectibles, antiques, art pieces and artefacts. They are operating every Sunday of each week, from early hours of the morning until noon. Also, this market offers great finds and great quality food as well. You can find Baltimore Farmers' Market & Bazaar under the JFX bridge between Holliday & Saratoga streets. All CityLink lanes stop close to this farmer's market.