10 Best Bars in Rio De Janeiro
10 Best Bars in Rio De Janeiro
10 Best Bars in Rio De Janeiro – Even Though Rio de Janeiro is famous for its clear skies, coastal vibes as well as its great nature, the nightlife is something else. This city has a unique and animated bar culture with easy socialising for tourists and newcomers. Here are some of the best bars you see in Rio de Janeiro.
1. Bar Bukowski
Bar Bukowski is the oldest rock & roll house in Rio. This bar is open most of the week including the holidays. Also, this bar includes 4 bars and lounges with external sittings as well as hookah.
2. Samba do Trabalhador
If you like Samba, then you should visit "Samba do Trabalhador". They normally open at 4 in the evening and the music and dance starts by 5PM. If you are traveling alone to Rio, this place is safe and the atmosphere is friendly. Everyone upon entry will be searched for security reasons. This is the normal procedure so don't worry about it. Also, prices are reasonable and and they only take cash.
3. Bar do Mineiro
Bar do Mineiro, in the heart of Santa Teresa, is one of the most unique bars in the area. Inside you will see black & white photos on the walls as well as a lot of crowd outside, the bar makes you feel good inside. The star of the menu is the famous feijoada and the cold beers are incredible too.
4. Cafe Cultural Sacrilegio
This bar is a lovely samba club in Lapa area. The music is wondeful. Also, they serve great food as well as great Caipirinhas. So make sure to give this place a visit if you like the samba vibes.
5. Bip Bip
This place is probably the best  working-class bar in Rio. Loacals and tourists all come here almost every night to listen to the famous samba jamming session and have a drink. Furthermore, the bar is as vintage and old-school as it gets. You get your beers from a fridge at the back of the shop and the owner writes down the purchase. The catch when listening to music there is  not clapping at the end of the music. The owner doesn't like noises disturbing the peace in there!
6. Bar Urca
This classic bar can be found in the fabulous Urca neighborhood. Also, Bar Urca has a spot overlooking Guanabara Bay that provides a beautiful scene in a sunny day while hearing the sound of the water under your feet. You can grab a cold beer from the bar and a some snacks, and then head over to the wall across the street to get the bay view by yourself.
7. Bar Bracarense
This bar is located in Leblon, which is Rio's wealthiest neighborhood populated with classy, over the top bars. Bar Bracarense on the other hand offers a more affordable menu in coparision to its competitiors. Also, you can get the traditional boteco in this bar. The bar has outdoor seating, suitable for calming Rio evening serves  classic Brazilian pub food and local beer brands.
8. Carioca da Gema
The phrase 'Carioca da gema' is an expression to describe someone who is truly born in Rio. It's a sign of pride in that they were born and raised in the fantastic city. This bar shares the spirit of Rio completely, with nightly samba sessions and choro bands, local food, as well as cold beers that are a must on a summer's night in Rio.
9. Pavão Azul
Pavão is a One of the most popular bars in Copacabana area as well as in Rio. You need to go there early to get a seat. Unfortunately, if you arrive late any later than 6 in the evening and you'll be forced to sit down on one of the plastic chairs on the pavement. Also, this bar is famous for its codfish bolinhos (fishcakes) as well as its cold beers.
10. Renascenca Clube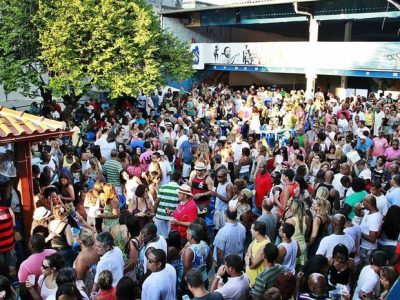 This place is an exciting local hangout with friendly crowd and great music. On every Monday night many locals come here and enjoy some of the best Samba parties in the whole Rio. If you want great music, tasty food as well as a great party, this place should be on top of your list.
Suggest:
Travel Tips For USA