In the central coast of Vietnam, you can find the Ancient city Hoi An. Tourists in Vietnam should definitely visit best attractions in Hoi An to get more acquainted with this country's culture. This city is not like other cities in Southeast Asia and it is built on the canals leading to the East Vietnam Sea. Its architectural style is a mixture; reflecting the cultures from China, Portugal, France and Japan.
Visiting Hội An is an opportunity to discover traditional houses, temples (pagodas) as well as bridges. Exciting colors, friendly locals and incredible culture increase the visitors' interest in seeing the attractions in Hoi An.
The Old House of Phung Hung with Chinese Decorations
The Old House of Phung Hung has two floors, and was built in the 18th century. Also, more than eight generations of the family lived in this house. What makes the house one of unique attractions in Hoi An is that it is actually a museum. This home's guide is also part of the eighth generation. Miss Hung will show you your ancestral home in full detail. You can see the influence of Chinese and Japanese architecture in the decoration of this house.
Central Market to Find Local Fruits and Vegetables
If you love food and eating local offerings, then there is no better place than the central market in this city. This is a large market by the river with various shops. In this area, various foods are sold at low prices, such as 'Cao lau'. This noodle dish is made from fresh vegetables and meat. Also, there is a large fish market here worth visiting too.
An Bang Beach to See The Blue Ocean
One of the busiest beaches and favorable attractions in Hoi An is An Bang Beach. This beach is a long sandy beach that has access to the blue ocean, and is a great place for relaxing in the sun or swimming in the sea. Unlike other beaches in Hoi An, losing beach area due to tide is not a problem here. In fact, there is a lot of sand in this coastal area. Moreover, you will see countless vendors selling food throughout the day under the shade of palm trees.
Old House of Tan Ky with Unique Architecture
Another unusual attraction in Hoi An is the Old House of Tan Ky. This house is more than 200 years old and has been passed down for seven generations in this Vietnamese family. The house has an interesting architecture, and it has details such as spools for raising furniture as well as a balcony made from carved wood. The interesting thing us that, to this day, some family members still live in the old house of Tan Ky.
Cantonese Assembly Hall located Next to The Cau Pagoda
One of the most popular attractions in Hoi An is the Cantonese assembly hall. This hall is also known as Quang Trieu and is located next to the Cau Pagoda. As the name implies, the hall was built by Cantonese immigrants in the 19th century. It was a gathering place for worship and communication between Chinese visitors and residents. By visiting the Cantonese assembly hall, you can see the structure and decoration of clay dragons.
Tailors in Hoi An From Ancient Silk Road
The city has many traditional tailors, and since the city has long been a commercial port on the Silk Road, it has skilled tailors. Also, sewing is one of the most popular jobs in Hoi An. In many shops you can see countless types of fabrics with different colors and, in here, you can order different sizes. After that, on the next day, you can get your favorite outfit ready to wear. You can pay for it after sizing the dress and be in agreement with. It is simple and as fast as that.
Assembly Hall Of Fujian Chinese in Honor of Thien Ly Nhan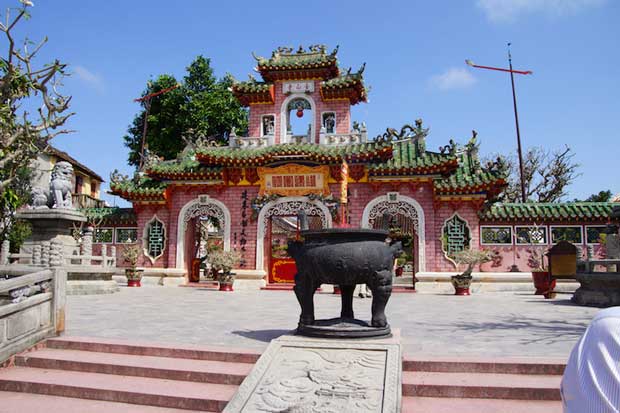 Phuc Kien is the common name for the Assembly Hall Of Fujian Chinese. Like other attractions in Hoi An, Phuc Kien is a gathering place for residents, businessmen and visitors from China's Fujian Special Zone. The hall later became a religious place in honor of the god, Thien Ly Nhan.
Visiting the Assembly Hall Of Fujian Chinese means seeing colorful fountains in the courtyard, ornate gates around the property as well as beautifully carved dragons in the main room. Furthermore, this hall is a popular place among the visitors and residents of Fujian region.
Hoi An Night Market on Nguyễn Hoàng Street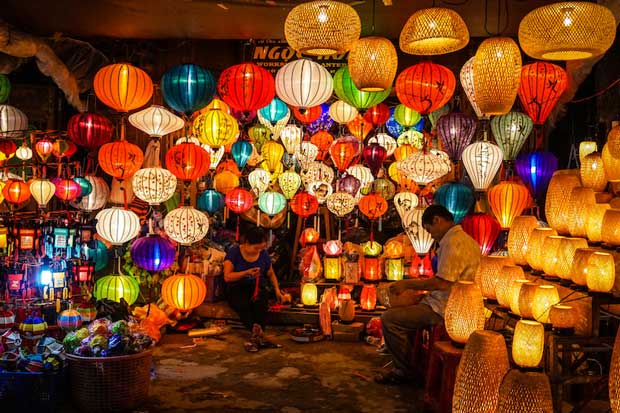 There is no shortage of shopping attractions in Hoi An, but one of the most interesting places in the city of the night market. The market is located on Nguyễn Hoàng Street, right in front of the Japanese Covered Bridge. The market begins at around 5 in the evening everyday, with more than 500 vendors opening their shops, selling everything from souvenirs to fresh clothing and food.
Perhaps the most notable thing is the paper lanterns that glow beautifully at night here. You can buy a colorful lantern to bring home and remember the colors, freshness, agility, and excitement of this vibrant night market.
Japanese Covered Bridge Connects Tran Phú to Nguyễn Thị Minh Khai
Japanese Covered Bridge is one of the most visited attractions in Hoi An. The bridge was built in the 17th century and connects Tran Phú Street with Nguyễn Thị Minh Khai Street. Furthermore, this bridge allows residents to access Chinese areas from Japanese quarter. The bridge is covered and looks like a Japanese pagoda, and its original style dates back to 400 years ago. The reason to cover the bridge was to use it as a shelter, however, it is now decorated with carvings and images of animals.
Old Town with many Historic Buildings
The Old Town is a region in Southeast Asia in the commercial port that was used as a port from the 15th to the 19th century. Many of historic buildings here are built in the traditional Chinese style, and has narrow and winding roads. Highlights of this old city include the Japanese Covered Bridge, three old houses and the Quan Cong Temple. Also, there are several museums in the old town, however you will stop seeing these museums to instead see the incredible local music performed in the local handicraft workshop.
It is worth mentioning that, as a tourist in South East Asia, you need to definitely visit the top attractions in Vietnam and specifically in its Northern part. This area has a lot of marvelous historical sight as well as natural beauties that are delights to be seen.