Top 5 Hong Kong's Attractions
Best of Hong Kong Attractions
There are many Hong Kong tourist spots offering great views of this magnificent place in Asia. This article explains the Hong Kong attractions to travelers and newcomers. This beautiful and lush Asian island, with its very small area, has a large population that continues to grow in height. Because at this level, there is no place for the city to expand and grow, you will see many skyscrapers in Hong Kong.
Ocean Park Theme Park with an Aquarium
You can find Ocean Park in the south of the Island by the sea. The location is on a hill with a beautiful view of the city from above. Ocean Park is one of the most popular Hong Kong attractions for locals and foreigners. You should take a full day to explore the Ocean Collection. They include various sections such as an aquarium, zoo, amusement park, cable car, and mammal park.
The aquarium is famous as the largest dome aquarium in the world. It is where you can stand and watch the fish floating above you. If you want to experience the excitement, be sure to take a long-distance ride in the park with the amusement train. Also, you can use other exciting play equipment to experience a happy and exciting day.
Dai Pai Dongs Night Food Market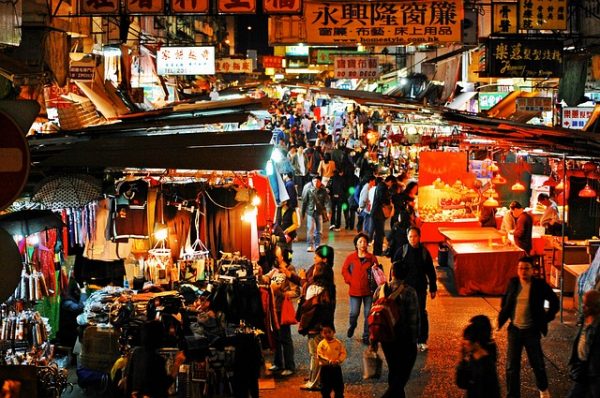 Dai Pai Dongs are street-side food stalls that are less famous among Hong Kong attractions. Here, you can find delicious noodle and rice dishes, as well as seafood. These locations are amazing places for getting cheap food. These stalls are not as prevalent as before; however, you can find them in some parts of the city.
Victoria Peak The Highest Hill in Hong Kong
Victoria Peak is the highest point in all of Hong Kong attractions. If you want to see the top of the towers, you can use Victoria Peak electric wagons to reach the top of the hill. The spectacular view of the skyscrapers here is something very memorable. In here, you feel like the whole city is under your feet. Make sure to visit here on sunny days.
Ngong Ping 360 Aerial Lift on Lantau Island
Hong Kong looks better when looking at it from some height above sea level. In fact, Ngong Ping Cable Car confirms this notion by giving tourists amazing views from the island. This cable car operates between the town of Tung Chung and the themed village of Ngong Ping halfway up Lantau Peak. It provides a beautiful view over many Hong Kong tourist spots, passing on top of the South China Sea and onto the lush greenery of Lantau Island.
Festival Walk Shopping Mall in Kowloon Tong
Hong Kong has no shortage of great shopping. However, with the availability of numerous local markets, it is slightly difficult to visit normal shopping malls here. Festival Walk is a mall that houses more than 200 retail shops and restaurants. Also, there is a skating rink on the top floor, a movie theater, and easy connections to the city's light-rail systems.
Hong Kong Disneyland for Families
Hong Kong Disneyland is the largest theme park and another of the main Hong Kong Attractions. However, in terms of size, it is the smallest Disney park in the world. The actors in the park speak English, Cantonese, and Mandarin. Like the actors in other Disney parks, they are extremely friendly. The collection includes seven subject areas: Main Street, USA, Adventure Land, Fantasy Land, Tomorrow Land, and Story Land.
Tian Tan Buddha on Lantau Island
Tian Tan Buddha, or Big Buddha Hong Kong, is a 34-meter statue located on Lantau Island. The island was a lesser-known place before the statue was built in 1993. The statue of the Big Buddha in Hong Kong is said to be the largest statue of its kind in the world, taking about 12 years to build. It is one of the few religious and holistic Hong Kong tourist spots you can find on the island.
Hong Kong Jockey Club Happy Valley Racecourse
Jockey Club Happy Valley Racecourse is suitable for watching horse races. The entire feel of this horse race track is just massive because of its skyscraper surroundings. The horses are cheered on by a vocal crowd of thousands of local and international fans.
If you are traveling to this island on a tight budget, make sure to read Hong Kong travel guide for tourists. This guide gives extensive information on where to eat and what to do if you do not want to spend a lot of money during your stay here.