10 Best Bars in Tbilisi Georgia
10 Best Bars in Tbilisi, Georgia
This article explores 10 Best Bars in Tbilisi Georgia which is beneficial for tourists who want to have a good time in Tbilisi bars. In Georgia, people love to eat, drink and go out with their friends on both weekdays and weekends. Therefore, this city has many bars, cafés as well as restaurants. These institutions are very welcoming to foreign tourists and offer a wide age of local and international alcoholic drinks.
1. 41 Gradus
41 Gradus is a hidden spot in the center of  the old city with modern interior, cozy atmosphere and very good bartenders. It is one of Tbilisi bars that mostly younger generations would like to go. Here you can just name any kind of cocktail and you'll receive a refreshing drink.
2. Bauhaus
This bar is positioned in Dedaena Park. This open bar is the best place to have a drink in the evenings. Bauhaus is a budget-friendly bar that serves cocktails, local draft beer, as well as famous local drink "chacha". Also, with your drink you can order cheese sticks, sandwiches and soups. They don't provide any menu but waiters will inform you what they offer that day. Sometimes, they organize some events like live music, movie screening, and barbeque gatherings.
3. Carpe Diem cafe bar
This is a hip café in the center of the old city. This place has a eye catching interior. Also, they serve very delicious chocolate fondant for dessert. If you want to have a view of this city, seat on the tables outside.
4. Black Dog Bar
Opened in 2016, Black Dog Bar is one of few pet-friendly Tbilisi bars. Also, it's one of the few smoke-free bars in that area. This bar serves craft beer, cocktails, and foreign food and has live reggae, rock, and jazz music on some evenings.
5. Dive Bar
You can meet many expats in Dive. This bar is a quite good place to have fun in the evening with your friends or fellow travelers. People are sociable, everyone are so friendly and lovely. This bar is very cheap and bartenders all speak fluent English. Also, you can enjoy playing beer bong in this bar at some evenings.
6. Warszawa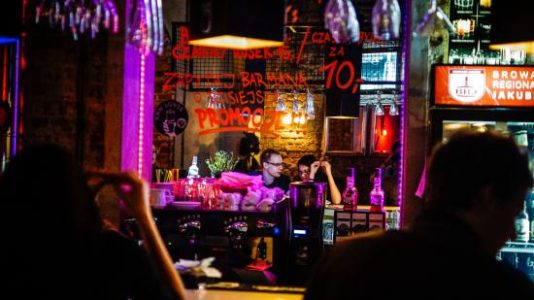 Warszawa is located at Freedom Square. This bar is another budget-friendly bar for a drinks and is very popular with the locals. Its walls are designed with old Polish & Georgian newspapers, giving this place vintage touch. The menu for food and drink is very cheap but limited. They serve vodka, beer, chacha and wine as well as non-alcoholic drinks.
7. Generator 9.8
This bar is located near the Shota Rustaveli Avenue. They have some kind of cultural activity like live music and games almost daily.  They have exceptional service and it's a wonderful place to feel comfortable at first when you get inside.
8. Rooms Hotel Bar
For a classier evening, you can try the bar at Rooms Hotel in Tbilisi. They offer both indoor and outdoor seating possibilities, with many different kinds of food and drinks. The bar is stylish and has a relaxed feel and friendly atmosphere.
9. Meoba Bar
This bar has great music and drinks, cozy atmosphere, friendly staff as well as delicious vegetarian options at reasonable prices. It's the best place to make new friends, have a dance and enjoy your night out.
10. Drunk Owl Bar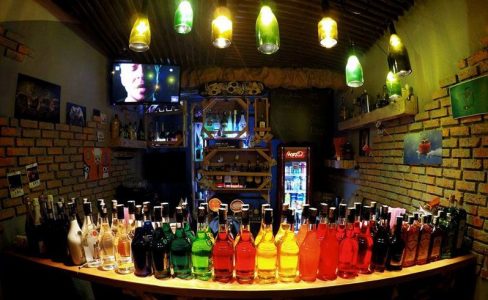 Drunk Owl Bar is one of the main Tbilisi bars that you can try. This bar which is near the in old town, is a fun place to start your evening if you are on a budget and proceed to a club afterwards. They offer variety of drinks and cocktails as well as live music on Fridays and weekends create a relaxed atmosphere for you to have a drink or two in there.
If you are exploring this country for its bars, you should also check out the top bars in Batumi. This is another city in Georgia that is very quite and you can have a great time and make a lot of local friends. These bars offer both local draft beer as well as international imports.