5 Things to Do in Tbilisi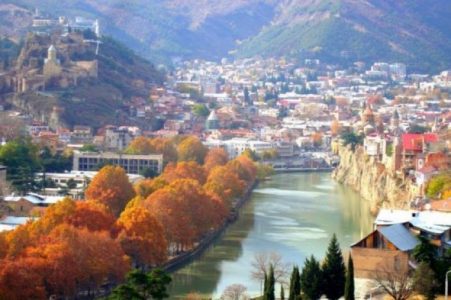 A List of Things to Do in Tbilisi Georgia
There are many places to visit in Tbilisi. However, this article mainly focuses on 5 things to do in Tbilisi that every tourist can participate in. This list maximizes your time so that you can see the best of Tbilisi attractions if you are there for a short time. This beautiful city is really popular among travelers coming to this side of the world. You can spend many weeks looking around the town and drinking some coffee at many cafes available all over Tbilisi. Here we take a few activities you can do when you plan to visit Tbilisi.
1. See Narikala Fortress Close to Sulfur Baths
The first thing to do in Tbilisi is to see Narikala Fortress. This site is beautiful, stands over the old town, and is very close to famous sulfur baths. Getting the tram is the easiest way to get to this place. It takes you to the base, then you can walk into the ruins. There are a few safety measures up there, and you need to climb up some areas. The top view is breathtaking. However, it requires you to climb a bit for that.
This fortress is near the Mother Georgia monument, so make sure to give this place some admiration time. Both the night and daylight view of this fortress is amazing, so try to catch a view at both these times. Also, the tram cost is cheap so don't worry about heading there twice. The current opening hours are from 8 am until 8 pm.
2. Mother Georgia Statue's climb Using Cable Car
One of the best places to visit in Tbilisi is Mother Georgia Statue. This statue is the best of Tbilisi attractions, and it is a symbol of Georgia, where locals adore it very much. You should see her up close by climbing up from the old town. Then you can move down to see the botanical gardens from there. From spring through Autumn, the sight of this place is amazing, and visiting it will take only a few hours of your time. There is also a cable car available to take you to the top.
3. Walk Around the Old Town Attractions
One of the best things to do in Tbilisi is to walk around the Old Town, also known as Dzveli Tbilisi. This area is where most tourists go, and also most of the historical sites & churches are all in a walk distance. Your accommodation will likely be near the Old Town, so be sure to have an afternoon walk around this area.
4. Get in the Sulphur Baths Near Abanotubani
One of the unique things to do in Tbilisi is try their public baths. These baths are natural Tbilisi attractions and are near the main intersection in the Abanotubani area, which is on the south side of the Metekhi bridge. You definitely want to go to these baths with friends to maximize the fun there. Also, locals go to these baths in the wintertime to get warm and have some closure time with family and friends. Another good thing here is Sulphur Baths are located around many guest houses, so you can just freshen your day if you stay nearby.
5. Visit Dry Bridge Market at Dedaena Park
Another one of the must things to do in Tbilisi during your visit is to have a look at Dry Bridge Market at Dedaena Park. This flea market is easily visible near the river and about 15 minutes west of the Metekhi intersection. You will see shops selling antiques on the sidewalk, and there is also a lot of artwork on display. There are many unique items for sale in that market, and you can definitely get some souvenirs to bring home.
If you have spare time to explore this country, it is worth checking out the top 5 monuments & statues in Georgia. They offer a better perspective of Georgia through the years of different empires and rulers.
The Best Tourist Places to Visit in Tbilisi
Most places to visit in Tbilisi are historical landmarks or natural parks. However, all of them are still good places to get educated regarding this country's past and enjoy some quiet time in its parks. Other than previously mentioned places, tourists can also allocate some time to visit places like Mtatsminda Park, Jvari Monastery, Bridge of Peace as well as National and Vake Parks.