Cheap Restaurants in Warsaw For Tourists
Best Cheap Restaurants in Warsaw
Restaurants in big cities are expensive, and finding a cheap restaurant is difficult. Fortunately, there are still cheap restaurants in Warsaw for tourists. Warsaw is one of the cities that still retains its traditions and culture. In this city, you can find many restaurants that serve cheap and delicious food. Most of Warsaw's cheap restaurants are located in Old Town and the downtown area. Here are some of the best restaurants in Warsaw for budget tourists. Keep in mind that most of these restaurants only accept cash from you.
Also, to get better information on what to eat in Warsaw, try checking out most delicious food in Poland info page. This is where you will find some love for Polish food and know the names when you order at local restaurants.
Kuchnia Za Ścianą for Polish Food
The Kuchnia Za Ścianą chain restaurants in Warsaw serves Polish cuisine in the best possible way. In this restaurant, you can taste quality and delicious Polish food at a reasonable price. Be sure to visit this restaurant because it is a little difficult to find such a quality restaurant with cheap Polish food. The restaurant's daily menu changes often. But Polish soups like Zurek and barszcz are always on the menu. This restaurant is self-service and buffet type, and you can go to the cashier after choosing food and pay for your food then.
Kebab King for Late Night Doners and Kebabs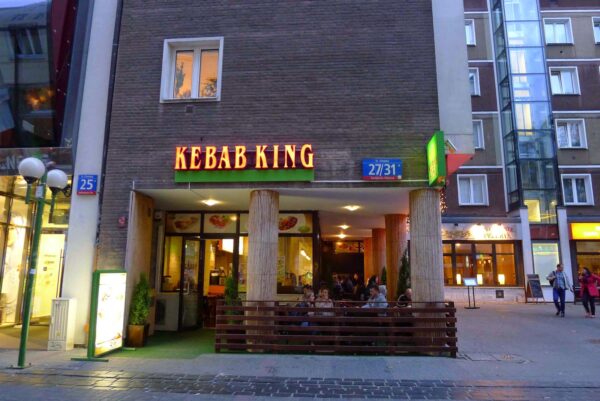 If you like kebabs, delicious and quality kebabs are waiting for you in Poland. Kebab King Restaurant is very popular among locals and tourists visiting Warsaw. On the food menu of Kebab King, you can taste all kinds of kebabs, from cheese kebabs to vegetables and Iskender kebabs. Also, Kebab King Restaurant has Wi-Fi and plenty of space to sit. This popular offers a delicious meal for less than $10.
Bar Mleczny Prasowy Self Service Restaurant
The Bar Mleczny Prasowy has a historical atmosphere. This restaurant dates back to 1954. This restaurant is located on Marszałkowska Street. In this restaurant, you can taste all kinds of pierogi. The interior of this restaurant is larger than most. The Prasowy hosts a large number of customers every day. Therefore, if you are traveling to Warsaw, be sure to check out this restaurant, which is one of the cheapest restaurants in Warsaw.
Rusałka. Bar mleczny near Park Praski
Near a cathedral in Praga, one of Warsaw's most interesting neighborhoods is the Bar Mleczny Rusałka. This restaurant is an ideal place to have a delicious meal by the river Wisła.
The good location, in front of the church, has improved the business of this restaurant. Tourists visiting this restaurant can order a variety of soups, including zupa barszcz. Other foods at this restaurant include Nalesniki as well as amazing plates of pasta such as makaron ze słonina. This restaurant's menu includes a variety of cheap and delicious local dishes.
Mleczarnia Jerozolimska Milk Bar in Mirów
Mleczarnia Jerozolimska is one of the oldest restaurants in the city with a lot of history. This is Warsaw's first milk bar. The restaurant has been closed and reopened many times throughout history and has been managed by various owners. In this restaurant, you can order a variety of dishes such as cutlets, pies, and salads at a reasonable price. This milk bar is one of Warsaw's most historic sites, serving various delicious and inexpensive food. If you travel to Warsaw, do not miss this restaurant.
Pijalnia wódki i piwa near Centrum Station
The Pijalnia Wódki i Piwa chain bar serves various Polish dishes and drinks. This is a great opportunity to learn more about Polish drinks in addition to Polish food. This time it has several branches throughout Warsaw. These chain loads are open and ready to receive customers all days of the year except public holidays.