Best Qatar Tourist Places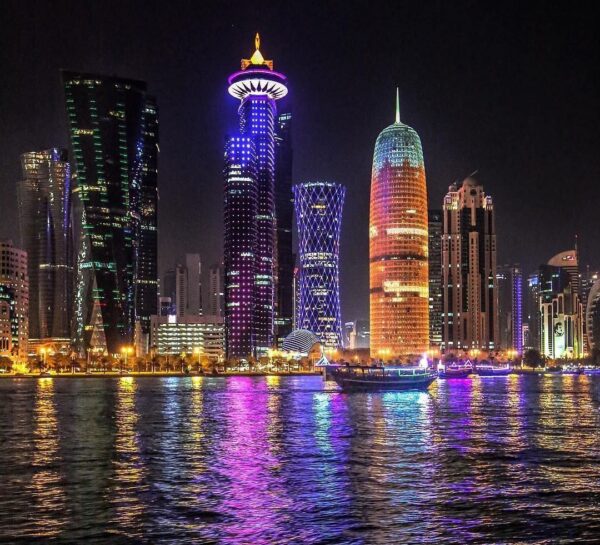 Most Famous Qatar Tourist Places
Qatar tourist attractions are slowly growing in numbers as the country develops more and more. The best Qatar tourist places are mostly available in Doha and near the seaside. Qatar is a country full of sights that can be a great option for a multi-day trip. In this country, you can travel the nature of the deserts of Qatar by safari, enjoy the countless beaches available for relaxation or exercise Reach the thrill of fun activities such as bowling, tennis, snooker, golf, or ice skiing. In general, it can be said that in this country of the Persian Gulf, there is something for everyone to enjoy and have fun.
Al Thakeera Beach Good for Sun Bathing
Al Thakeera Beach is one best Qatar tourist places to feel the nice breeze of the sea. It is a beach with an approximate length of 10 km. This means countless opportunities for beach activity are available here. Most of the beach is covered with sand, which becomes more firm with the humidity of the sea waves. This beach is one of the most spectacular Qatar tourist attractions, with views of cliffs, birds, and the sea. You can also visit Dukhan Beach, with almost similar sand formations.
Aqua Park on Salwa Road
Going to a Qatar water park is one of the most dreamy pastimes, especially if you are in a warm place like Doha. To have fun and play in the best water park in Doha, you should go to the Abū Nakẖlah area. The design and implementation of Aqua Park was carried out by a company based in Kuwait. This Aqua Park is one of the best Qatar tourist places for some relaxation and having a great time with family.
Aspire Park in Baaya District
You can find Aspire Park near Villaggio and Hyatt, two of Doha's famous shopping malls near the Baaya district. This park is the largest park in the city. This park is one of the greener Qatar tourist attractions. It has a wonderful contrast to the deserts around the city and is a pure gem that you should visit when traveling to Doha.
Barzan Towers Location in Umm Salal Mohammed
The Barzan Towers are part of a Doha museum which you can find in the Umm Salal Mohammed area. If you climb on top of them, they are a great place to watch the sea. These former watchtowers are not the most famous Qatar tourist attractions; however, they are worth a visit if you have extra time to tour Doha City.
Doha Corniche a waterfront promenade
The coastal route of Doha City is undoubtedly the most beautiful area of ​​Doha, which is full of exciting green landscapes and modern and admirable architecture. This coastal route of Doha Corniche includes some of the best Qatar tourist places inside. Also, it is a boulevard that is beautified with palm trees and has a two-way car route. This route is made in the shape of a horseshoe, its length is 7 km, and it ends at Doha Bay and the sea.
Doha Film City in Desert of the Zekreet
Film City is a contemporary art center from an ancient Arab village located behind a valley in the desert of the Ras-Abrouq (Bir Zekreet) Peninsula. Film City is located on one of Qatar's most amazing sites. Therefore, visitors may really feel like they are walking in a ghost town in the Arabian desert. The unusual palm trees that exist in this city offer a unique visual view to its visitors.
Doha Zoo
Doha Zoo is one of the most attractive and best Qatar tourist places. This zoo in Qatar is about 30 minutes from the city's center. Also, you can find small animals, some traditional zoo animals, and desert creatures in the area to see.
*Update: This zoo has been closed for renovation.
Katara Cultural Village near Katara Beach
Katara Cultural Village, also known as the "Valley of Cultures," is an interesting place to visit, especially for those who have a keen interest in the tradition of theater, art, and architecture. It is one of the more culturally focused parts of Qatar tourist attractions in general. Moreover, this place is very close to Katara Beach as well.
Arab Museum of Modern Art in Education City
The Arab Museum of Modern Art in Doha is the first of its kind in the world to house valuable art archives from around the world. This Doha museum, in Education City, is there to create a stimulating atmosphere for talking and studying modern and contemporary art. It is also used as a platform for artists in Arab countries and beyond. Also, it is one best Qatar tourist places for culture enthusiasts and those who want to learn more about the Middle East.
Museum of Islamic Arts near Harbor
The Doha Museum of Islamic Arts is the first of its kind in the Persian Gulf due to its capacity of more than 484,000 square feet, reflecting the big vision of its creators. This Doha museum provides an absolutely beautiful view of the city harbor at night time.
Khor Al Udeid in Al Wakrah
Khor Al Udeid, in the Al Wakrah district, with its beach, is one of the famous Qatar tourist places. This land is the bride of the deserts of Qatar and is located in a strategic location 80 km southwest of Doha. Also, Khor El Adid beach is very famous for its calm and quiet environment where visitors can get out of the chaos of everyday life and walk in a calm environment and move in search of their spiritual self.
After visiting these interesting locations, if you feel hungry, have a trip to some of the best restaurants in Doha. These eateries are often run by famous chefs, and you will get fantastically delicious food. Also, make sure to check their menu first since some of them are expensive.
Other Qatar Tourist Attractions to Look For
Some of the other interesting Qatar tourist attractions include The Pearl", "Msheireb Museum," "Hotel Park" and many more. In fact, because this country is very small, you can see many attractions within walking distance from each other or easily accessible using public transport. Just make sure to keep yourself hydrated and apply sunscreen as the heat is intense, and the sun shines bright here during the daytim