Best Cafes in Stockholm
In Sweden, a country where coffee is an important part of people's culture, visiting the top cafes in Stockholm, as well as other Swedish coffee shops, will bring more joy to your vacation. It is known that, on average, Swedes drink four cups of coffee a day. This puts Sweden as the third most consumed coffee country in the world, after its two Scandinavian neighbors, Norway and Finland. As a result, Stockholm is the place to be for coffee, and you will see many tourists sitting in cafes in Stockholm. In Stockholm as well as other parts of Sweden, "Kaffepaus," or "coffee drinking hour," is a big part of the day.
Drop Coffee near Mariatorget station
Drop Coffee is one of the top cafes in Stockholm that intends to take a fresh look at Swedish coffee-drinking culture and abandon traditional coffee approaches. This cafe uses completely flavored coffee with a rich taste. You do not need to use sugar to drink this coffee because its taste is completely compatible with your taste. Also, this coffee shop is an ideal place to get your work done because it offers free Wi-Fi and has many power outlets for electronic devices.
Café Foam with Scandinavian Design
Café Foam is a clear example of a beautiful interior design. The simplicity of Scandinavian designs, influenced by Spanish culture, is a sight that will bring joy and happiness to you. This cafe is ideal for people who are looking for an intimate and comfortable environment for their meetings, especially on Valentines. Moreover, the specialty of this café is Halloumi cheese salad, which compliments your cup of coffee.
*Update: This café is currently not operational.
Chokladkoppen near the Nobel Prize Museum
Another cozy cafe in Gamla Stan, part of Stockholm, is called Chokladkoppen. This café is one of the most famous cafes in Stockholm, located near the Nobel Prize Museum and the Royal Palace. The café serves a variety of Danish sandwiches as well as pastries along with Swedish coffee. Another menu item that is a crowd favorite is hot chocolate, which is very pleasant and full of good-quality cocoa flavor.
Kafé 44 a Hip Place to Drink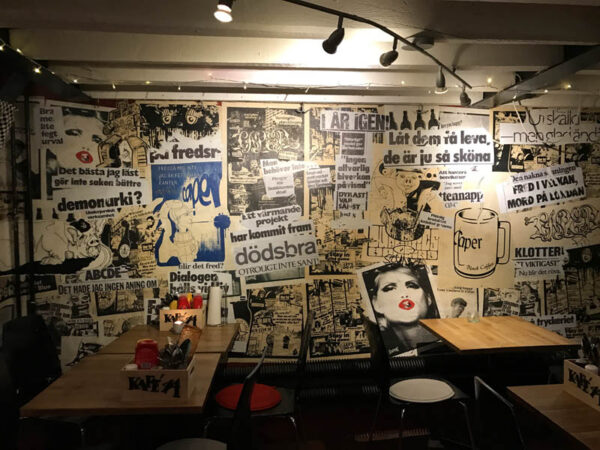 Kafé 44 was established by a private organization and is connected to a nearby concert hall. The vibe of this cafe is completely artistic and intimate, and has many fans among music fans. What makes this cafe more attractive is that the menu of this cafe also includes vegetarian food at a reasonable price, which is very popular among music enthusiasts. The café's concert hall is the venue for anarchist-leaning Swedish singers. If you are a music fan and enjoy listening to live bands, do not miss this cafe.
Färgfabrikens Kafé on Lövholmsbrinken
The Färgfabrikens Kafé was originally a paint factory on Lövholmsbrinken. This is the reason for the numerous windows and high ceilings of this cafe. Today, the building is known as a contemporary art center, and this special café is the venue for various events. The café serves customers for lunch and brunch and serves seven types of pastries.
Johan & Nyström in Swedenborgsgatan
Johan & Nyström was founded by a group of coffee lovers who wanted to spread the idea of ​​good coffee. The environment of this cafe has a Scandinavian design with bright lines and colors. Moreover, coffee beans come from reputable commercial agencies, and this café roasts them in-house. Also, owners of the café carefully select the "roast of the week" coffee beans in-house.
Konditori Ritorno in Vasastan
Konditori Ritorno has been in operation since 1959, making it one of the oldest-running cafes in Stockholm. This café is a vintage coffee house in Vasastan, a short distance from the city center. The cafe has old furniture and large mirrors decoration, creating a relaxing atmosphere that contrasts with the hustle and bustle of the city. This café serves a traditional type of coffee, such as filtered or brewed coffee giving you the real taste of Swedish coffee.
Stockholm is one of the European cities to see before adulthood for young people. This city has a young culture, and such group age will enjoy the most of their travel here.