Best Thailand Souvenirs to Buy in Bangkok
Famous Thailand Souvenirs in Bangkok
This article shows tourists what are the best Thailand souvenirs to buy in Bangkok. These Bangkok souvenirs can be exceptional gifts for your friends and family. Thailand, and in particular Bangkok, offer many unique souvenirs to tourists and travelers. No one can return from Thailand empty-handed. In fact, Thai markets offer such affordable prices that you get lost in the myriad of strange and special item
Thai silk and Clothing
If you want to buy a souvenir from Bangkok souvenirs stores that do not feel bland, go for Thai silk. Silk is the most popular fabric for Thai clothing. Due to the lightness and softness of this fabric, it looks very suitable for scarves and pants in the hot weather of Thailand. The color of these clothes is also compatible with hot weather and is often seen in bright colors and colorful designs that make it refreshing for daily use.
Coconut oil Used for SkinCare
Coconut oil is uniquely Thailand souvenirs for tourists. They have many applicants, especially among women, due to their many valuable properties. This natural oil improves the health of the skin and hair and has a pleasant aroma that is used in making soaps and natural cosmetics. In Thailand, you can buy coconut soap and oil from pharmacies and shopping malls. Also, it is advised not to buy oil products offered to you on the beach or on the street. Low-quality products may harm your body.
Exotic Fruits Like Papaya
Thailand is home to many of the special fruits on earth. Mango, pineapple, Dorian, dragon fruit, papaya, persimmon, horned melon, cherimoya fruit, longan, and jackfruit are some of these fruits. Try the taste of these exotic fruits as much as you can and take some of them as souvenirs for friends and relatives.
Pearls Jewelries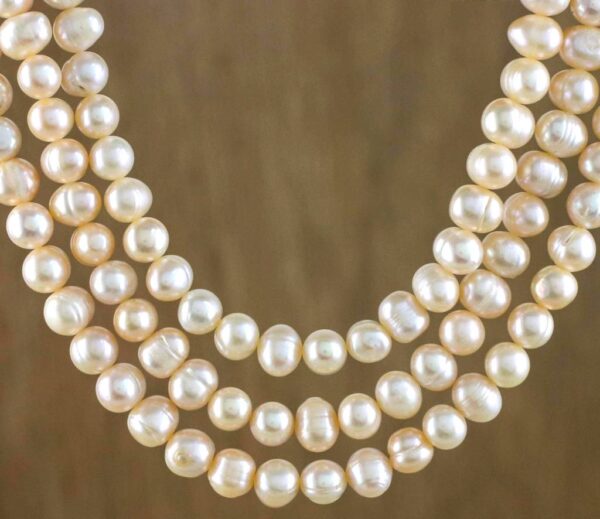 Thai pearls fascinate anyone with their shine and shape. A natural pearl necklace will be one of the great Thailand souvenirs for women. Moreover, you can get these pearls and jewelry made from jewelry stores. Of course, in Bangkok's Chinatown, pearls are sold at a lower price.
Multi-purpose Thai Pillows
Anyone who has traveled to Thailand has seen this traditional multi-purpose triangular pillow. This pillow can be used as a cushion and support for your back. Also, it can be opened and used instead of a mattress and a resting bed. Moreover, this traditional pillow is filled with natural fibers called kapok. You will see these pillows in most Bangkok souvenirs markets.
Buddha Statues
The majority of Thais are Buddhists, and it is not surprising to see a Buddha statue in Bangkok souvenirs markets. Thais believe that the Buddha brings them calmness and prosperity. When purchasing these statues, make sure that the length of the statue should not be more than fifteen centimeters because, according to Thai law, a larger Buddha statue cannot be taken out of the country.
Wood Carving from Local Markets
Thais are always proud of their carpentry skills and offer skillful products to travelers. To find genuine wood Thailand souvenirs, you can buy any of these beautiful wood carving artifacts with classic designs from local markets.
Handmade Bags with Nice Colors
Handbags are usually set with the color of the clothes. Due to the colorful Thai traditional clothes, you will see handbags in bright colors. Elephant design bags are most popular among tourists. In addition to fabric bags, you can also find various products made of natural leather.
Thai Tea Served in Cafes too
Thai tea has countless classifications. The most popular types are blue tea (Butterfly pea flower tea), "matum" and "puer." The taste of Thai milk tea in cafes, called "Cha Yen," fascinates your taste buds. Mixed milk tea packages have become popular as souvenirs amongst tourists here. You can buy Thai tea from Bangkok souvenirs shops, department stores, and markets.
Thai Sauce And Spices with Rich Flavors
Thai food is known for its rich flavor. Some dishes mix both sweet and spicy flavors at the same time. Try Thai food and then cook it at home for your friends by buying special sauces and spices from Thailand and introducing them to the flavor of Thai food.
Also, if you want to shop around for these Thailand souvenirs, it is worth checking out the top places to buy cheap goods during your Bangkok shopping. In these locations, there are many interesting items you can look at, and maybe you will find something that you have been looking for a long time.